Paul Finnerty has had to explain himself a lot recently. But if he is fed up answering the same questions over and over again, he hides it well. Sitting in a meeting room at ABP's Dalepak factory in North Yorkshire, he is matter-of-fact as he talks me through the events of mid-January, when the horsemeat scandal erupted around his company.

This is the first interview Finnerty has given since the scandal broke - and the first time since January that Dalepak has opened its gates to a journalist - but it is obvious the ABP Food Group CEO has had some practice at this: with government investigators on both sides of the Irish Sea, with customers and, most publicly, the Commons Efra committee. He answers with precision, specifying exactly who was told what, when, and by whom.

There's the phone call he got driving home late on 14 January, telling him frozen burgers made by ABP had tested positive for horse the report he asked to be prepared overnight and presented to him at 7am the next morning the drafting in of internal and external advisers to help with investigations the unenviable task of informing customers - chief among them Tesco - about the problem the meeting with the Irish food watchdog that had tested the burgers the withdrawal of 10 million burgers from the market and, on 16 January, the decision to suspend all production at Silvercrest, the Irish ABP factory that made the Tesco burger.
"To say there was a sense of shock would be a total understatement"

Paul Finnerty, ABP
"To say there was a sense of shock would be a total understatement," Finnerty recalls. He knew two things straight away - something must have gone seriously wrong in his company. And it would unleash one hell of a public backlash.

He was right on both counts. Over the next two weeks, the Tesco burger and ABP dominated the news, and Silvercrest was unceremoniously dumped by a string of high-profile customers for breach of contract, after investigations revealed the plant had sourced raw material from Poland and used it in burgers that were meant to contain only meat from the UK and Ireland.

And it wasn't just Silvercrest that got ABP into trouble. Horse DNA was also found in Dalepak products - including Asda frozen mince containing 29% horse - while Waitrose reported that frozen meatballs, processed at the same plant, had tested positive for undeclared pork. Finnerty says ABP's own tests on the Waitrose product came back negative, but he accepts the 29% result on the Asda mince, although he won't comment beyond saying investigations continue.

His overall message from this? Both products were produced before 16 January, when ABP issued its recall the company has put in lots of measures to ensure similar incidents won't happen again and all products produced after 16 January have been clear.
Knowing your suppliers
The measures now in place at Dalepak are plain to see, with segregation of raw material by species to avoid cross-contamination, and new tests and cleaning regimes in place. And Finnerty is clearly proud of the work that's been done, and keen to point out that the plant is now at the forefront of defining best practice post-'Horsegate'. When I visit, officials from the Government Chemist are busy working on a project sponsored by the FSA and Defra to assess the risk of cross-contamination under different hygiene regimes.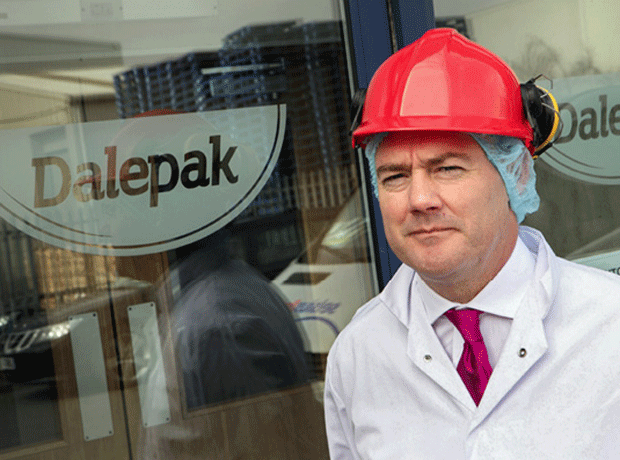 Snapshot
Paul Finnerty: CEO since 2009. Joined ABP in 2005 as COO previously at KPMG. Married and living in Dublin.
ABP Food Group: Annual turnover of €2.2bn fresh and frozen meat operations in 30 countries 5,000 staff in the UK, 2,500 in Ireland and 1,000 elsewhere. Head office in Ardee, Ireland. Owned by Larry Goodman.Dalepak: Frozen meat plant in Northallerton, North Yorkshire. Founded in 1976 and bought by ABP from Northern Foods in 2010. 150 staff.
Silvercrest: Former ABP frozen burger plant in Co Monaghan, Ireland. 122 staff. Sold to Kepak Group in April 2013.
But it's before meat enters the factory gates where Finnerty has made the most dramatic changes. It comes down to this: ABP has decided it needs to get to know its frozen meat suppliers.

It's a telling admission. Not having full, first-hand knowledge of where the raw material you're using comes from seems a glaring lapse of judgement. And, to his credit, Finnerty doesn't try to make excuses: "We got it wrong on the supply chain on frozen," he says. "Businesses like ours need to buy directly from where the raw material is coming from."

It's now obvious the chain for frozen meat was too long, involved too many intermediaries, and was therefore vulnerable to risk, he explains. Not picking up on that is his biggest personal regret: "With the benefit of hindsight, one would have taken a scalpel to that at an earlier stage to reduce risk."

Now the intermediaries have been cut out and ABP buys only direct from primary producers in the UK and Ireland, and it's also started doing its own audits on frozen raw material suppliers rather than relying on third-party certification. "It's about knowing where your raw material is coming from," says Finnerty. That approach was already part and parcel of ABP's fresh meat business, but it's "a very radical departure" for its frozen operations, he adds. "We're bringing a lot of best practice from the fresh sector to frozen."

The difference between fresh and frozen is a theme Finnerty returns to numerous times - it's at the heart of his strategy for lifting ABP out of the quagmire. Ninety-five percent of ABP's business is in fresh and just 5% in frozen, he stresses, and the horse issue was confined to and resulted from problems specific to frozen meat.
That's why Greencore's announcement in mid-February that Asda bolognese sauce made with beef from ABP's fresh meat plant in Nenagh had tested positive for horse was so explosive. Had horsemeat indeed been found in ABP's fresh meat, Finnerty's fresh-versus-frozen defence would have crumbled, and the consequences for his company could have been catastrophic.

But, as Greencore subsequently made clear, the result was a false alarm, and Finnerty can't stress enough that ABP was vindicated: "We announced immediately that we were able to trace back all the raw material in our chilled business right back to farm, and that the issue couldn't arise in our chilled beef business. And the investigation in the subsequent weeks proved that to be the case - our business got cleared. The reference sample came back negative, and the rest of that batch came back negative."

But the failings at Silvercrest go deeper than risk management in the frozen supply chain. Not only did it buy beef that turned out to be contaminated with horsemeat, it also used Polish meat in products despite customers - such as Tesco - stipulating their burgers must contain only British and Irish meat.

Finnerty has publicly apologised for letting his customers down, but what's his explanation? "Inadequate attention" and "bad management", he says. The problem wasn't that Silvercrest had gone to Poland to buy beef (the plant was allowed to source up to 30% of its raw material from non-Irish and non-UK sources), "it just shouldn't have gone into certain products that it went into". There was also insufficient oversight by ABP's convenience foods division, which is why the division was disbanded back in January, he adds.

But "bad management" doesn't happen in a vacuum. The Irish government's report into the horsemeat scandal suggested the Polish raw material was €400/tonne cheaper than material from Ireland, so what role did financial pressures play?

Finnerty insists the advantage gained by using Polish meat was minimal. First of all, the difference between Polish and Irish material wasn't €400/tonne but €270/tonne, he says. Second, looking at prices per tonne is misleading because only 5% of Silvercrest's raw material came from Poland: "In overall terms, the pricing advantage of Polish raw material over Irish raw material was c.€200,000 a year - very small in the context of a €50m-a-year business. So when you put a number per tonne on there, it sounds like a colossal difference, but in terms of the actual volumes bought it's quite small."

Still, to a business under pressure, €200,000 could have made the difference between making and not making a profit, I put to him. Finnerty isn't persuaded. "I think it was more around poor management decisions that were taken than being able to say there was any significant financial advantage."

As for how exactly horsemeat found its way into ABP's supply chain (primarily from Poland, but Finnerty says ABP also has some Dutch meat that's tested positive for horse), the details are still unclear, and if Finnerty has a personal theory, he is not prepared to share it before official investigations have concluded.

But during our tour of Dalepak, he points out the raw material boxes found to contain horsemeat at Silvercrest were often hidden in the middle of the pallet, where they would have been less likely to be tested. "That suggests fraudulent activity," he says, adding it's one reason ABP has introduced a carefully randomised sampling system when testing for horsemeat now.

ABP is also examining its legal options. "We obviously have had a couple of situations where we're going through a formal process, and that may very well lead to us taking litigation."
Looking ahead
But Finnerty is focused predominantly on the future supply chain. ABP is keen to source more British meat, he says, having already increased the number of UK cattle it processes by 20% to 400,000 a year over the past five years. "You'd have to think that similar growth is easily achievable in the next five."

He won't be drawn on how much the débâcle has cost ABP - the overall group was and is in a strong financial position, he insists - and he denies he had to make financial concessions to customers or renegotiate contracts to hold on to business in the wake of the scandal. "You have the usual pressures - increasing cattle prices and all that - but nothing out of the ordinary."
"The trend is towards chilled and fresh as opposed to frozen, and it's very hard to see those trends changing"

Paul Finnerty, ABP
He is similarly relaxed about 2 Sisters Food Group becoming a competitor following its acquisition of Vion UK's red meat business earlier this year. 2 Sisters is known for having a particularly close relationship with Tesco on the poultry side, and is a key customer of ABP's on fresh meat, so he'd be forgiven for being concerned about Ranjit Singh Boparan coming after his account. "I never comment on customer-specific situations, but Vion was always there before and 2 Sisters is there now, and we stay very focused on what we do."

As for whether ABP will stay in frozen meat or focus entirely on fresh, the writing appears to be on the wall. With Silvercrest sold to Kepak a week after this interview, a large chunk of ABP's frozen business is already gone, and although Finnerty points out ABP has been in frozen for a long time and no decision has been made, he doesn't exactly make an enthusiastic case for staying put. "I think it's fair to say - in terms of the products we're involved in - that's not been a growth sector," he says. "The trend is towards chilled and fresh as opposed to frozen, and it's very hard to see those trends changing."

Our time is up, but I can't leave Finnerty without asking him about one final, lighthearted aspect of the horsemeat scandal - the jokes. With so many at the expense of ABP and its customers, can he laugh? "You have to have a sense of proportion about the whole issue, but we don't go around laughing about the business," he says. "The jokes are out there, you hear them, but you don't repeat them."

So it wasn't ABP's idea to give its corporate box at the Aviva Stadium in Dublin its new nickname - the horse box? Finnerty cracks up at last. "We have a sense of humour, but it has its limits."
Horsegate: Who are the winners?
1

2

3

Currently reading

ABP: A fresh start after 'Horsegate'

4