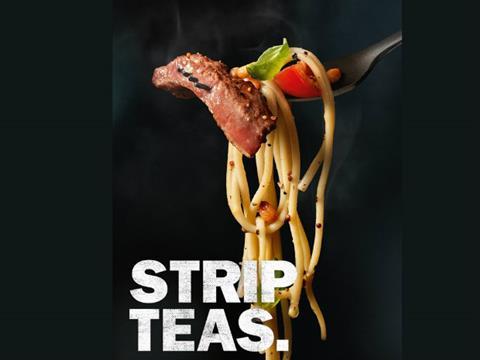 The AHDB is set to launch the next phase of its campaign to promote thin cuts of beef with a 'cheeky' £1m marketing push.

The Cheeky Beef campaign will launch later this month targeting time-short households with a range of 30-minute or less recipes featuring thin cut steaks.

Billboards featuring recipe inspirations alongside risqué double entendres will run from 28 May until the beginning of August, while the campaign will also feature advertising in consumer newspapers, supplements and social media.

Major retailers have pledged support for the Cheeky Beef campaign, which aims to increase thin cut sales by £6.1m over three years, pushing value over the £30m barrier.

It follows a focus on thin cuts during this year's Great British Beef Week, which drew consumer attention to the cuts - usually between 5-7mm thick - and promoted the term thin cut steak as a means to avoid confusion with alternative names such as minute steak and frying steak.

"We're looking to put thin cut steaks on the plates of people who are either starting a family or thinking about doing so, helping those who are short of time due to a busy lifestyle put steak in their midweek meals," said AHDB Beef & Lamb senior marketing manager Gareth Renowden.

"While this is a fun and captivating beef campaign, it's part of a bigger long-term strategy. We've been working closely with the industry to increase use of the beef carcase and meet consumer needs by getting thin cut steaks in stores before Cheeky Beef begins."

Earlier this year, the AHDB unveiled a grading system using an "electronic bite test" to measure the tenderness of beef, which could be labelled accordingly to encourage sales. It stressed the cuts were a cheaper alternative to other beef cuts, often costing around £9 per kilo.

The move could increase turnover in the English beef industry by 3% by improving carcase balance with the sale of thin cuts, which come from a range of muscles, and might otherwise be minced or exported, said the AHDB.