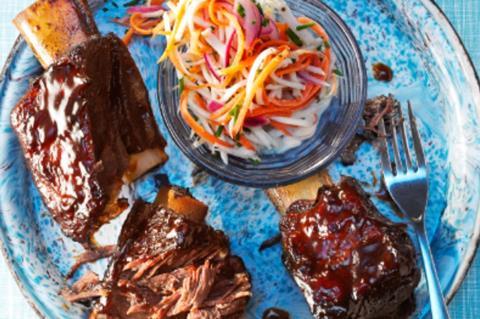 A renewed interest in slow cooking has driven a boost in beef sales, according to latest figures from Waitrose.
The retailer said consumers were opting for alternative cuts like beef cheek, rib and shin, as savvy shoppers aimed to get the best value and variety from their purchases.
"The rise in demand for braised beef, cheek and shin is certainly being driven by the revival of slow cooking, not to mention the desire for more affordable meat options," said executive chef at Waitrose, Jonathan Moore.
Waitrose's strategy of buying the whole carcase from farmers had enabled it to increase availability of those underused cuts, he said.
Searches on the Waitrose website for braised beef were up 65% over the past year, said the retailer. Meanwhile, consumer interest in Wagyu and grass-fed beef was also rising, with searches increasing 56% and 33% respectively.
In addition to value, consumers were motivated by the nutritional benefits associated with beef, added senior nutritionist at Waitrose Emma Williams.
"Our customers are becoming increasingly mindful about what they're putting in their baskets. Beef can form part of a healthy, balanced diet and is a great source of protein, important for the growth and maintenance of muscle mass," she said. "Beef also provides a source of iron and is rich in B12, both of which are important for healthy blood, immune health and reducing tiredness and fatigue."
It follows a continued upsurge in demand for beef, after Christmas sales of beef rose 8.5%, reaching £69m in value in the four weeks to 30 December 2018 [Kantar]. Red meat then went on to weather the Veganuary storm, maintaining flat sales in the face of the January vegan push.