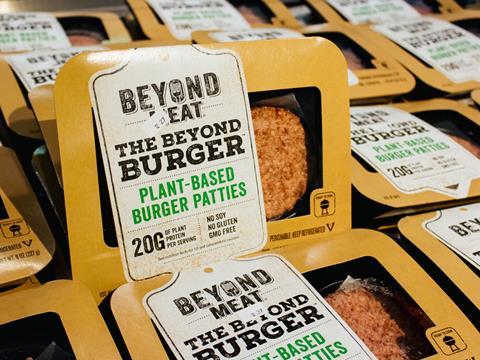 For someone trying to sell plant-based meat alternatives, Seth Goldman sure knows how to talk down the category.

"Most meat alternatives are so bad you'd think they were a strategy created by the meat business to discourage people from becoming vegan or vegetarian," the chairman of US startup Beyond Meat says.

Goldman's point is: product quality is the number one reason more people don't go plant-based. It's not because they don't buy into the health, animal welfare or environmental arguments. It's because the products are mostly terrible.

His other point (unsurprisingly) is: Beyond Meat, which is currently gearing up for a UK launch in the coming months, is decidedly not terrible. Its plant-based Beyond Burger - which is made with yellow peas - is something carnivores like, too.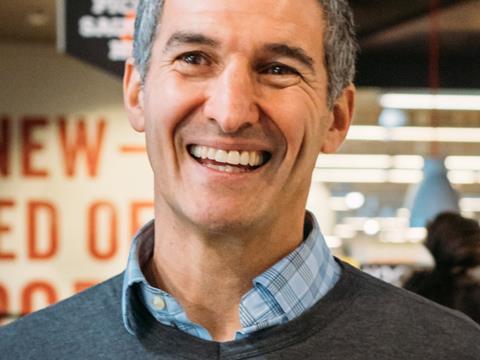 Goldman has good reason to be bold. His high-profile startup, which counts Bill Gates, Leonardo DiCaprio and Twitter's co-founders as investors, has been a runaway success in the US. It recently secured a further $55m (£40m) in investment (including from US meat giant Tyson), which it will use to triple production, and announced a high-profile deal with TGI Fridays that will see its vegan burger patties sold in restaurants across the States. And, crucially, 70% of Beyond Meat's US sales come from meat eaters.

It's a key point of difference, believes Goldman. Vegans and vegetarians are an important demographic for his brand, but the real growth potential is in flexitarians - people who enjoy meat but are looking to cut back a little. "Only about 5% of the US population are vegan or vegetarian, and that percentage hasn't changed much in recent decades. There's a lot of churn out of plant-based," says Goldman. "We want the other 95%. Our target consumer is someone who isn't vegan."

Hence the need for a product that passes the carnivore test.

It's also why Beyond Meat is not going heavy on anti-meat rhetoric in its marketing. After all, most of its customers do eat and enjoy meat. "We are not judgmental or preachy," says Goldman. "Our goal is simply to provide the best-tasting alternative."

Beyond Meat's focus on flexitarians over vegans or vegetarians also means it's keen to see retailers reflect the growing appeal of plant-based products in their merchandising. It's time to stop quarantining meat alternatives like Beyond Meat in special plant-based sections. In the US, Beyond Meat has managed to persuade retailers like Whole Foods Market to merchandise its patties in the chilled meat fixture - a crucial step towards getting plant-based ranges in front of potential buyers.

"We look at the dairy alternatives sector as a role model," says Goldman. "The breakthrough there was when they started being merchandised alongside dairy products. So our playbook is going to be: develop a product that delivers on taste and texture; package it in a manner that is competitive; and merchandise it adjacent to its analogue."
Chilled versus frozen
In the UK, however, Beyond Meat looks to be facing more of an uphill battle on that front. Feedback from UK retailers suggests they don't want to put Beyond Meat in their chilled meat fixtures because the patties are shipped frozen, says Goldman. "Whether it's a regulation or simply a way of doing business, we are being told they don't think it's appropriate for products to be put into the fresh section if they were shipped frozen."

The Food Standards Agency, for its part, doesn't appear to see a regulatory problem: there are no specific rules preventing foods derived from plant sources being sold as chilled after being defrosted. But for now Beyond Meat will make its UK debut in the frozen aisles.

"It was a bit of a disappointment, but we can only be so disruptive," says Goldman. "And we have been reassured there are enough people in the UK willing to buy frozen."

He is also encouraged by the level of enquiries Beyond Burger has had from the UK to date. "We have a section on our website for international enquiries, and most of them are coming from the UK. There's real excitement about Beyond Meat in the UK, which is why we've chosen the UK to be our first retail market outside the US. We think the potential is fantastic."