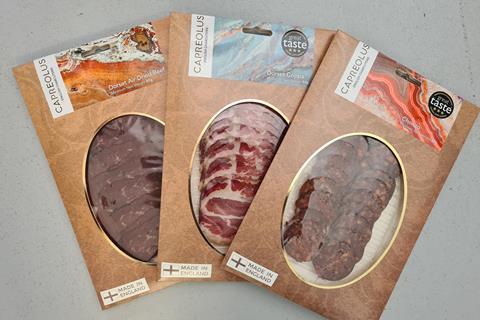 Capreolus, a Dorset-based English charcuterie brand, has secured placement in 56 Waitrose stores from this week.
Waitrose will be stocking three of the brand's Great Taste Award winning products: Dorset Coppa, Dorset Chorizo and Dorset Air-Dried Beef.
The Dorset Coppa (rsp: £6.70) is made of British free-range pig which is dry-cured with a blend of herbs and spices, before being air-dried for weeks to "concentrate and intensify the flavours".
The Dorset Air-Dried Beef (rsp: £7.44) is silverside from grass-fed West Country beef cured with herbs, spices and port. This is air-dried for several weeks and sliced thinly.
Meanwhile, the Dorset Chorizo (rsp: £4.97) is free-range British pork cured and flavoured with smoked Spanish paprika, sweet ancho chilli, Spanish purple garlic, and cayenne pepper. The chorizo is described as "medium" heat.
"The biggest difference over what we are producing here and the mainstream charcuterie from the continent is the quality of the meat, because the quality of meat we have in this country is second to none," said David Richards, director of Capreolus. "We are only using free-range meat, whereas the vast majority of everything that is produced in Europe is intensively reared."
He added that the brand only uses the "very finest spices" which are bought whole to be ground fresh for each batch, which Richards says "makes a huge difference to the way things taste".
Richards claimed this was the first time a major supermarket has stocked branded British charcuterie, which he believed has been made possible due to Brexit.
"I voted to stay in because I think it is crazy to leave such a big club but, ultimately, I do think it is going to help producers like us because there seems to be much more interest in actually knowing where the product has come from.
"Also, it is becoming much harder, certainly for the quality producers on the continent, to send stuff to us," he added. "They are having to do more paperwork – it is not going to be inspected but it is making life a lot harder for them, so it is helping the British smaller producers."
The brand plans to move into a new facility at the end of Q1 next year to increase capacity by 10 times, which it hopes will enable it to expand its partnership with Waitrose.