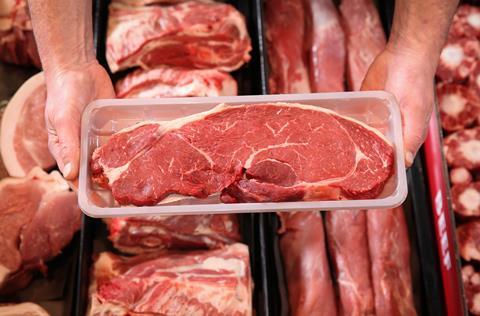 Proposals for a tax on sales of meat will be presented to the European parliament this week as part of a bid by campaigners to reflect the "environmental costs, including CO2 emissions and biodiversity loss" of livestock farming.
The "fair meat pricing" proposals, also known as a "sustainability charge", have been devised by campaign group the True Animal Protein Price (or TAPP) Coalition – which comprises farming, health and environment organisations across the EU including Compassion in World Farming.
The coalition is calling for the new pricing model for meat to be included in the European Green Deal – a set of policy initiatives which aim to make the EU climate neutral by 2050 – and its Farm to Fork strategy for sustainable food. It will be debated by MEPs on 5 February and would apply from 2022 if passed.
TAPP is proposing a 47 euro cent/100g increase in the price of beef and veal, a 36 euro cent/100g increase in the price of pork and a 17 euro cent/100g increase in the price of chicken by 2030.
These price increases would lead to a reduction in chicken, pork, and beef consumption by 30%, 57% and 67% respectively by 2030, it suggested.
A key aspect of its proposal is that revenues from the sustainability charge, projected at €32.2bn per year across EU member states by 2030, could be used to help farmers invest in more sustainable agricultural practices, the group said.
It could also be used to lower VAT and consumer subsidies on fruit and veg, provide financial support for low-income households, and support developing countries in adapting to climate change and protecting forests and biodiversity.
The charge could lead to a reduction in CO2-equivalent emissions of up to 120 million tonnes of CO2 per year, TAPP suggested. This equalled all CO2 emissions from four EU member states: Ireland, Denmark, Slovakia and Estonia, and nearly 3% of all EU greenhouse gas emissions.
The proposals come as talk of a meat tax have also re-emerged in the UK, with a report by the Committee on Climate Change published last month suggesting a tax could be introduced to "ensure the price of food reflects the climate impact of production", if other interventions were not successful.
"The time has come for us to act decisively with policy on the environmental consequences of animal protein, the price of which has been kept artificially low for far too long," said Philip Mansbridge, executive director (UK) for TAPP member and campaign group ProVeg International.
"Here we have a solution that is fair for farmers and supports the transition to a more plant-based food system that we so urgently need if we are serious about mitigating climate change."
However, the British Meat Processors Association said TAPP's proposals "don't make sense" and would instead introduce inflation into the meat supply chain – to the detriment of many consumers – while also encourage meat production in other parts of the world where it could have a greater environmental impact.