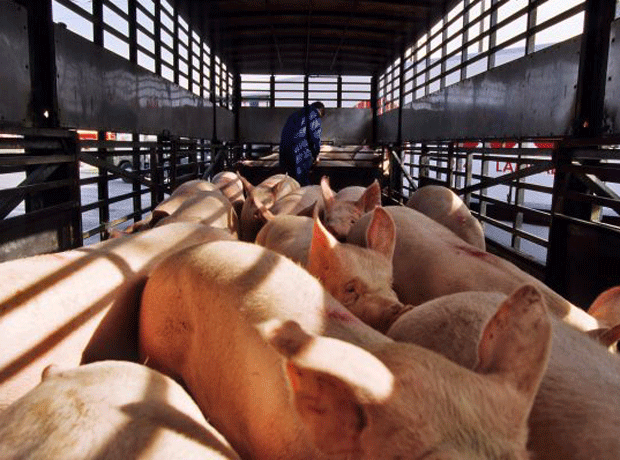 We're running out of time to save the planet. That was the stark message at the inaugural Extinction and Livestock conference in London last week, as speakers warned intensive farming is having a catastrophic impact on the environment.
The conference – organised by Compassion in World Farming and the WWF – was the first in the UK to explore the impact of livestock production on the future of life on Earth. And the verdict wasn't good.
Speakers called for a radical shift in global food policy away from the "rotten system" that encourages farmers to produce as much food as possible so it can be sold cheap in the supermarkets.
Business as usual was "not an option", insisted Hans Herren, agricultural scientist and president of think tank the Millennium Institute, who warned industrial farming, particularly livestock and dairy farming, was destroying the planet.
He dismissed arguments that the world needs to produce more food to satisfy a growing population as "scaremongering" and environmentally unsustainable, and expressed concern over the influence industry is having on national and global food policy. "We need to stop listening to the wrong side," he insisted.
His comments were echoed by Professor Tim Lang of City University's Centre for Food Policy, who argued for a move away from the "policy lock-ins" on food and farming seen with the EU's Common Agriculture Policy, towards a system of subsidy based on a greater commitment to biodiversity.
'Appetite for Destruction'
The conference coincided with the publication of a WWF report imaginatively titled Appetite for Destruction, which contains zero references to the seminal Guns N' Roses album but instead makes the case for a shift away from meat towards plant-based diets.
The report highlights the vast amount of land needed to grow the crops used for animal feed – pointing out the British livestock industry needed an area the size of Yorkshire to produce the soy used in feed. If the global demand for animal products grows as expected, soy production would need to increase by nearly 80% by 2050, placing untold pressure on land and water supplies, the WWF warns.
"The simple fact is that the world is consuming more animal protein than it needs and this is having a devastating effect on wildlife," said WWF food policy manager Duncan Williamson.
"A staggering 60% of global biodiversity loss is down to the food we eat," he added. "We know a lot of people are aware that a meat-based diet has an impact on water and land, as well as causing greenhouse gas emissions, but few know the biggest issue of all comes from the crop-based feed the animals eat."
These arguments are, of course, nothing new, but hearing them in such a high-profile setting will be a boost to campaigners as they seek greater prominence for their views. And with environment secretary Michael Gove arguing for a so-called "green Brexit", who knows, it could be the start of something much bigger.