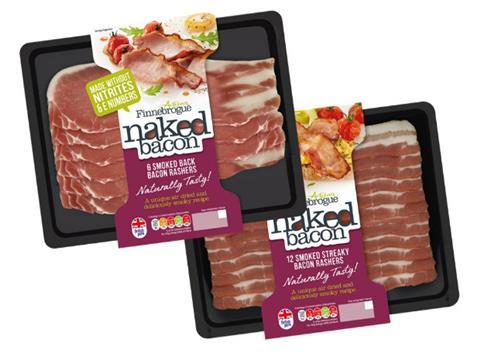 Northern Irish sausage supplier Finnebrogue has added a smoked variant of its nitrite-free bacon, which it says eliminates "nasties" and ingredients from traditional smoking processes associated with increased cancer risk.

Its packs of back and streaky smoked bacon (rsp: £3) went on sale today on Morrisons' online store, with further distribution set for the coming months.

The move comes six months after the brand unveiled its Naked range of unsmoked nitrite bacon, claiming to be the first UK producer to pull off the feat while matching the taste and shelf life of traditionally made bacon.

Part of the company's £14m investment in the Naked range funded atomising technology. This passes smoke through water, removing 99% of carcinogens, before infusing its pork products with a smoky flavour, Finnebrogue chairman Denis Lynn told The Grocer.
"We have been inundated by requests from customers for a smoked version of our Naked Bacon," said Lynn.

"But after all of the work we put in to make safer bacon without nitrites, we didn't want to then add loads of tar and dangerous chemicals by smoking it in the traditional way. We have produced a seriously tasty smoked bacon without 99% of the nasty tars and chemicals."

In response to the World Health Organization's revelation that nitrites used to cure bacon could raise the risk of bowel cancer by up to 18%, the Naked Bacon range was designed around nitrite-free curing technology developed by Spanish company Prosur. The process blends Mediterranean fruit and spice extracts to give pork its characteristic pink colouring, add flavour and extend shelf life.

This week, the brand registered further trademarks hinting at plans to expand the Naked range, with Naked Salami and Naked Pepperoni lodged with the IPO. Finnebrogue remained tight-lipped on further launches except to say the launch of its smoked variant was "just the latest step" in its mission to remove nitrites from food.

Finnebrogue also added Naked Ham and Sausages to its range in January, dispensing with e-numbers for its Ultimate and Cumberland banger lines.

Nitrites were singled out as a potential carcinogen in a WHO report in 2015, which warned consuming 50g of bacon per day - the equivalent to two rashers - could raise the risk of cancer.