From plant-based to price wars, the prognosis for meat looks bleak. But could a resurgence in clever meat marketing mark a comeback?
Two decades ago, attempts to market meat as anything other than a commodity were something of, well, a meat market. Brands were cheap, unappetising and forgettable. Remember Sun Valley? Or McKellar Watt? No, they weren't holiday parks, but chicken and sausage brands. Neither of which stood the test of time. Sun Valley was subsumed into own label by Cargill in 2008 and a similar fate befell McKellar Watt, which was rebranded as Freshlink before owner ABP decided to ditch the operation entirely six years ago.

They weren't isolated cases, either. Italian cheese brand Galbani used to supply branded pork products into the UK too but no longer does, while Olde English sausage maker Freshbake Foods called in the receivers in 2004, its ideas of Sausage Nuggets and Cheesy Sausage Fingers a step too far.

Fast-forward to 2018 though and we're in the midst of a meat marketing resurgence. In the past few months alone The Honest Butcher has launched its pork and lamb products into Waitrose in a striking colour palette, Dovecote Park debuted its Juicy Meat Co range in Ocado and ABP brushed off its bad memories of McKellar Watt to introduce Food for Superheroes, a partnership with Warner Bros in June. So, what lies behind this new focus on branding and licensing? And where lies the biggest opportunity?
Only a few years ago, applying the 'hard sell' to meat looked unnecessary. It was an undisputable mainstay of the UK weekly shop, after all. But reliable purchasing behaviour has been somewhat eroded. According to Kantar Worldpanel data, volumes of meat and poultry fell 1.9% over the summer months alone, with more than 857,000 consumers deserting the lamb category.

Why? Well, meat-heavy diets have faced voracious criticism from both animal welfare advocates and environmental campaigners in recent years. Only last month, a UN report into animal agriculture and its impact on climate change was widely reported. According to the paper, your average Earth dweller needs to rein in their beef consumption by 75% and pork consumption by 90% immediately to safeguard the environment from a 1.5°C spike in temperatures over the next 12 years.
"People are more willing to believe a brand has done its homework on animal welfare"
Added to this is a perception that meat consumption can be bad for you, exacerbated by organisations such as the WHO, which famously likened bacon to cigarettes in 2015 - helping to promote further interest in vegan and vegetarian diets. Such is the plant-based clamour it's enough to silence the proudest of meat eaters. "Much more of this and I'll have to set up an underground Meateasy," quips one supplier.

The meat left on shelf is also caught in the crossfire of the supermarket price war. "We've seen a good old-fashioned price war, and a series of cost moves that's played to the discounters' advantage because you'll never win against a guy who's taking half the margins the big boys need," says managing director of HRA Global Hamish Renton. "It's reduced meat to a mere commodity, with manufacturers having seen margins pulverised and left casting around for ways to add value to their output."

The upshot of all this is that those in the meat trade are in something of an "emaciated" state, he adds. "There's not a lot of fat to be trimmed and suppliers are simply not in a position to suck up further losses. There are parts of the supply chain that are unprofitable or marginal, which is worrying as primary meat is probably the highest risk of the food chain, so you need suppliers and processors to make a degree of profit. Otherwise all sorts of things can happen."

Against such a bleak prognosis, it's no wonder the power of branding has been called upon to resurrect flatlining sales. Pete Mitchell, founder of haggis and black pudding brand The Farmer's Son, of which Mitchell is in fact the 11th generation, was back at work within 48 hours of the birth of his first child trying to make ends meet.

"We have a small farm, around 250 acres, which isn't viable on its own and three generations trying to make a living from it," he explains. "There are only half a dozen abattoirs in Scotland now whereas two decades ago there might have been four of five times that. That's where the creation of your own brands come in"

High-welfare, sustainable meat

Until now brands have made up only a small sub-set of the meat category, accounting for 2% across fresh and frozen products in red meat, with the vast bulk (84%) sold as private label and the remaining 14.5% sold under no brand name at all from butcher's counters, according to AHDB consumer insight analyst Susie Stannard. Which means it would take only small growth for the market to double in size, or more.

Looking to address concerns about welfare and the environment, it's not surprising that the brands emerging thus far have largely been premium, high-welfare offers with strong sustainability credentials. One such example is the Juicy Meat Co's manufacturer Dovecote Park, which pledges to "pursue environmental policies that reduce waste, make energy more efficient and invest in technologies that assist in lessening our impact on the wider environment".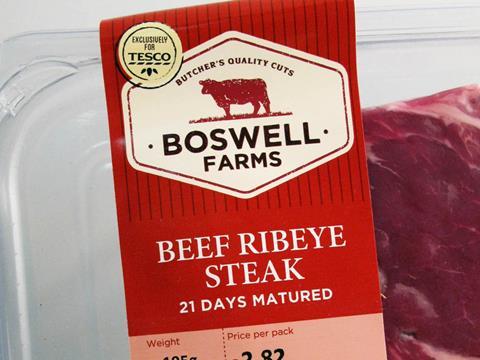 Spotting the potential in branded meat products, a number of retailers have been experimenting with their own ranges too. As early as 2016 Tesco introduced its (controversial) 'fake' farm branding across meat and veg SKUs, with CEO Dave Lewis admitting the creation of a brand "symbolises a certain level of quality and certain level of value and then guarantees it every time"
The rise of plant-based has also prompted Dovecote to sit up and take notice of alternative proteins. Anticipating that the current tide of flexitarians will soon become a tsunami, its commercial director Laurie Ibbotson says the supplier's new range, which launched into Ocado this summer, caters to the 'meat reducer'.

"Rather than take meat out of the diet, we'll be giving an option to cut down," she says. "This involves including pulses and vegetables so there's 50% less beef in the product, be that a burger or meatball."

Brand Britain has also become an integral part of marketing techniques. The Juicy Meat Co goes so far as to display the union flag proudly on the front of its packs, despite the majority of the range taking inspiration from flavours of the US, in response to a consumer base increasingly preoccupied with provenance. "We're seeing a lot more farmers selling meat direct to consumer, and although it's niche, it's a way for farmers to let the public know about things like provenance, welfare, grass-fed and the like," says Stannard.

"I was speaking to a farmer last week and he told me he sells a lot to people on keto and paleo diets but also to vegetarians. While that person may be vegetarian themselves, if they have a partner that eats meat they want peace of mind on the environmental footprint of the purchase and how the animal has been raised."
And for the majority of the public - that wouldn't dream of trading the weekly shop for a trip to their local farm to check out the origins - a brand is the next-best option. In being answerable to the consumer in the increasingly faceless world of supermarket supply chains, brands have the opportunity to build consumer confidence - especially when they're making specific claims around welfare or method of production.

That extends to methods of slaughter, too. "The halal consumer wants to buy a trusted brand and doesn't necessarily trust that the supermarket own label has done the due diligence," explains Noman Khawaja, co-founder of halal meat brand Haloodies. It's a growing opportunity, with 8% of the UK population expected to be Muslim by 2030, with 50% of those under 30, but one that, crucially, can't be fulfilled by retailers alone.

"Supermarket buyers have told me they currently have no intentions of going into own-label fresh or value-added halal meats, simply because of the trust element," he adds. "Retailers don't feel they have trust they could build with any certainty that the halal consumer would buy from them."
"Selling meat direct to consumer is a way for farmers to let the public know about provenance, welfare and the like"
Various meat suppliers to the major mults have come under fire for myriad welfare violations recently. Some disgraced suppliers, like Fir Tree Farm - which was in the firing line in May after workers were filmed acting violently towards their charges - and Hogwood Farm - supplier to Tesco, which was lambasted in the press this July for the "appalling" on-farm conditions - seemingly went unpunished. Despite numerous petitions, Tesco did not drop Hogwood as a supplier and both were allowed to remain in the Red Tractor assurance scheme. "People are more willing to believe a brand has done its homework. And that's a sentiment that doesn't necessarily apply across the store. But in this category they're willing to give the brand the benefit of the doubt," adds Renton.

New markets

Trust is something long-established brands are also taking advantage of, upping marketing tactics to defend their shares. Without the high-end welfare and sustainability claims of emerging brands though, these established value players such as Bernard Matthews and Kerry Foods are reliant on licensing and sponsorship deals as a shortcut to new markets.

By its own admission, frozen breaded poultry is a category "fairly limited in terms of excitement and interest", says Katherine Hall, brand manager for added value at Bernard Matthews. So this summer, the brand unveiled a partnership with Universal film studios that has seen it launch a range of Minions-shaped chicken nuggets. Not only is the nugget the brand's first branded frozen chicken SKU, but "by bringing something to the aisle with a pre-established fanbase, we can bring in incremental shoppers".

Though not designed as a trade-up in tiering, the Minions pack is lighter in weight than the rest of the Bernard Matthews frozen range, and retails in the same standard two for £3 promotions the brand offers.
Meanwhile, Kerry Foods' Fire & Smoke brand teamed up with NFL team the Jacksonville Jaguars to become its official UK meat partner in July, capitalising on the 14 million-strong British fanbase for American football. It is also a sponsor of the team's Jaguars Se7ens Cup, a UK 'flag football' tournament that sees teams compete in a non-contact version of American football.

"Now the partnership is underway, it has bought great exposure to both the Fire & Smoke and the NFL Jacksonville Jaguars brand," claims Dawn Spencer, meats marketing director at Kerry Foods. "We have seen incremental sales for Fire & Smoke, and younger shoppers entering the sliced cooked meats category."

And its sponsorship of the team in the UK highlights its protein-packed credentials, too. "With protein a key part of sports nutrition, the range has the perfect part and taste to play in the routines and lifestyles of the NFL team, and those who follow the sport."

Even own-label giant ABP got in on the action with the completion of a deal with DC Comics to market a range of meat SKUs featuring Superman, Batman and Wonder Woman. What's more, it's breathed new life into the Cheesy Sausage Fingers concept that failed for Freshbake all those years ago, with the launch of its Cheese & Ketchup Sausages, featuring Wonder Woman on pack. The 56% meat sausages were geared to "create excitement for meat products in younger consumers", according to the company's commercial director Darren Jones.

And, undoubtedly, exciting this next generation of consumers will be crucial. With 35% of 18 to 34-year-olds pledging to reduce their meat consumption further in the next 12 months, according to Harris Interactive, the battle to keep meat in shopping trolleys is only going to get bloodier. Building a brand consumers can care about could be one of the only ways to survive.
Five meat brands looking to carve out space in the market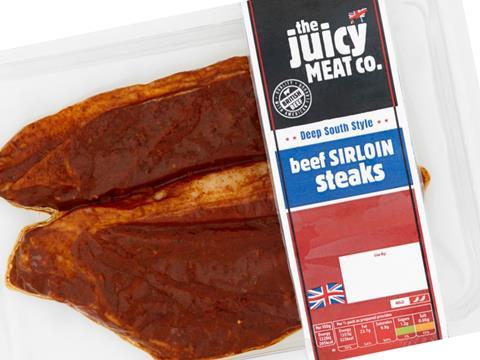 The Juicy Meat Co
Launched: June 2018
Manufacturer: Dovecote Park
The concept: Launched into Ocado in 2018 this is Dovecote's second brand, following the eponymous Dovecote Park, and the range is set to serve as a test bed for innovation. Venison and veal could be added to beef later, it says, with use of globally inspired flavours.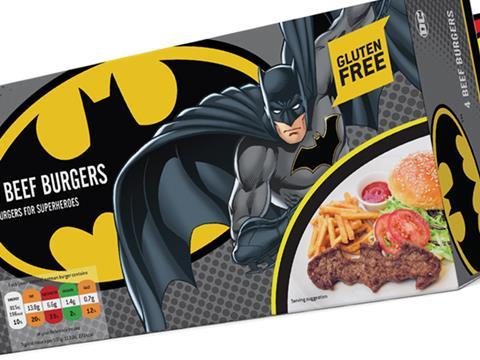 Superhero Burgers
Launched: June 2018
Manufacturer: ABP
The concept: Fresh and frozen sausages and burgers made their debut under ABP's DC Comics tie-up in June. Asda became the first to list the range, featuring Superman, Batman and Wonder Woman splashed on products in a bid to entice younger consumers.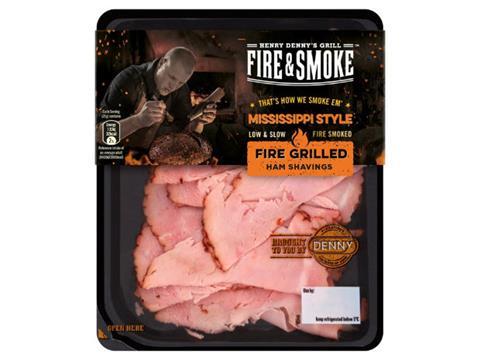 Fire & Smoke NFL
Launched: July 2018
Manufacturer: Kerry Foods
The concept: The brand became the official meat partner of NFL team the Jacksonville Jaguars this year, with promotions to win tickets to games rolled out on packs. The brand is aiming to capitalise on the growing UK popularity of American football.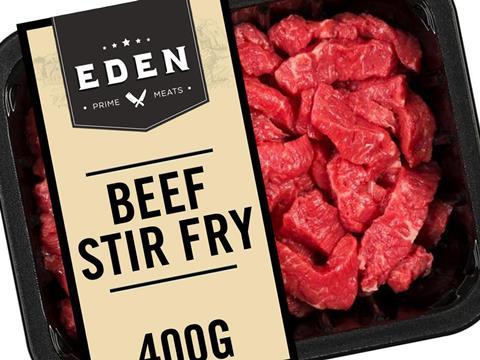 Eden Prime Meats
Expanded: January 2018
Manufacturer: Hilton Foods
The concept: This year Hilton Foods more than doubled SKUs listed with Ocado under the Eden brand, now at more than 20. Beef and pork are UK and Irish, with seasonal lamb sometimes imported from elsewhere. All suppliers are Farm Quality Assured.
Minions Nuggets
Launched: June 2018
Manufacturer: Bernard Matthews
The concept: Minions was Bernard Matthew's first branded frozen chicken product as part of a strategy to appeal to broader audiences. It has secured a deal with Universal Studios to market the product until 2020, and plans to step up marketing next year.