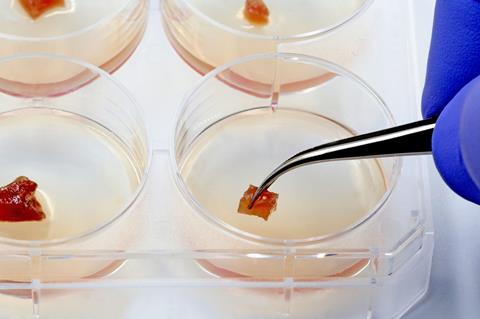 JBS has bolstered its presence in the lab-grown meat space by kicking off construction of Brazil's first cultivated protein R&D innovation centre.
The protein giant is investing $22m in the facility, which follows the creation of a pilot plant by its subsidiary Biotech Foods earlier this year in San Sebastain, Spain.
The Brazilian site is due to open next year at the new JBS Biotech Innovation Centre at Sapiens Parque innovation hub in Florianópolis, Santa Catarina.
It will also be the largest research facility focused on food biotechnology in Brazil, JBS said.
The investment will go towards the construction of lab facilities (phase 1) and a pilot plant (phase 2), with the site boasting a scientific team of 25 specialist post-doctoral researchers, as well as staff and clerical support.
In total, the JBS Biotech Innovation Centre will require an approximate investment of $62m over three phases.
In its third stage, an industrial scale model will be built to demonstrate the technical and economic viability of cultivated protein.
JBS said the project "will serve as a model for future plants that JBS may build globally to produce beef and other cultivated protein types".
"As a global leader in protein production, it is our responsibility to be at the forefront of foodtech," said JBS global supply and innovation director Jerson Nascimento Jr.
"The JBS Biotech Innovation Centre reinforces our commitment to the cultivated protein sector, consolidates our position as one of the main players in this very promising market, and reinforces our commitment to offering innovative, high-quality products to our consumers."