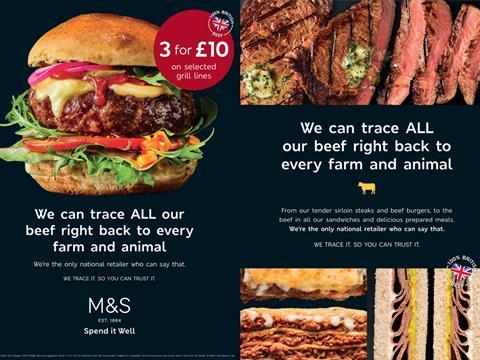 M&S has launched a new, summer-long marketing campaign which plays up the credentials of its beef traceability standards.

The campaign, which launched today (25 April), will also highlight the retailer's status as "the only national retailer in the UK that can trace every piece of beef it sells", whether it's in a prepared meal, a sandwich or a prime cut - and stretches back to every farm and animal from which it is sourced.

The retailer's traceability scheme, launched in 2015, uses DNA sampling by Dublin-based tech company Identigen to trace its beef back to every farm and animal, with thousands of tests carried out every year on products taken at random from M&S stores and warehouses.

The tests check that beef is moving through the supply chain - from farm, to abattoir to processor and to store - correctly and that M&S standards are being followed.

"This gives us better traceability than anyone else in the market," said M&S head of agriculture Steve McLean. "When it comes to beef, it means we know where every single animal was reared, how it was reared and how the beef moved through our supply chain."

The "We trace it, so you can trust it" campaign includes press, radio and digital activity, while an interactive supply chain map showing every farm that supplies M&S with beef will launch next month.

"Our beef campaign is an important first step in shining a spotlight on our unrivalled food standards, because trusting the food we eat matters to our customers," said M&S food marketing director Sharry Cramond.