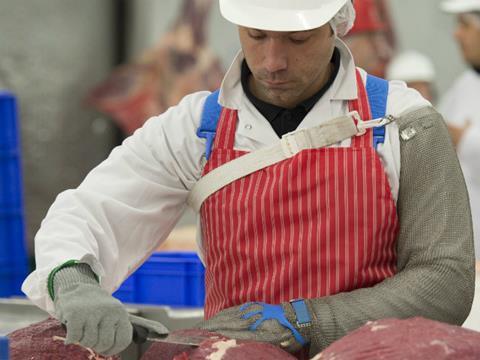 The percentage of EU workers in the meat sector has fallen, but "significant challenges" in filling skilled positions post-Brexit still dog the sector, the BMPA has warned.
A study by the British Meat Processors Association found the percentage of EU nationals across the sector had fallen by 10% during the past two years, from 69% in 2018 to 62% in 2020.
But while the reliance on overseas labour had fallen, it remained very high, with EU workers still typically making up more than 60% of workforces, showed the research for the Migration Advisory Committee's consultation on post-Brexit labour needs, published this week.
Until the coronavirus crisis, it had been "incredibly difficult" to recruit British workers into the meat industry, due to the combination of a reluctance to take on this type of role and very low unemployment in the areas where plants are located, the BMPA said.
And while it was hoped more UK workers would be attracted into the profession, there were still be big obstacles in attracting skilled staff, warned report author and BMPA technical policy manager Anna Proffitt.
"Even if more British people step forward for training, there would still be a minimum two year skills gap due to the time it takes to train a new recruit, which would need to be filled by fully skilled workers," she warned.
Any negative impact on meat processing staff levels would likely have knock on effects throughout the supply chain, Proffitt pointed out, including at farm and retail level, and ultimately for the consumer, who would likely see an increase in prices as the sector became less competitive.
"Outsourcing of value-added goods to overseas may occur, reducing the UK's food security," she added.
"This is an industry operating on wafer thin margins, and any cost impact is unable to be absorbed by companies for any period of time," she warned.
"These skilled workers can only come from abroad and that's why BMPA is calling on the Home Office to include butchers on the Shortage Occupation List," Proffitt said.
"We also want government to work with the industry to deliver public outreach to attract more young people as well as those switching career into the industry and provide easier access to the Apprenticeship Levy fund to finance their training."
The Migration Advisory Committee is due to report its latest findings to the Home Secretary by September.