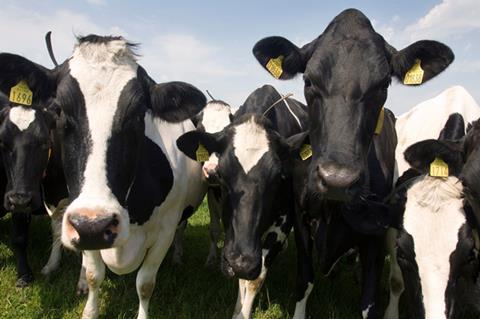 Morrisons has opened up its beef supply chain to bull calves from its dairy suppliers as part of a move it said could increase Britain's self-sufficiency in beef.
The initiative will see Morrisons work with about 200 Arla dairy farmers who meet the Arla 360 standard – a set of six separate sustainable production criteria which Morrisons signed up to in March.
Traditionally, bull calves go straight to slaughter and are not normally put towards human consumption. However, under the Arla 360 standard the slaughter of healthy calves before eight weeks of age is not permitted.
Morrisons will now allow its dairy suppliers to sell Belgian and British Blue crossed breeds into the calf-rearing units of its beef-rearing partners Buitelaar Production. The supermarket said the meat will be sold as rosé veal and will also go into "selected other products" like mince.
It is hoped this could help Britain cut down on its beef imports, with Buitelaar saying the move could "prove a big step" in boosting Britain's self-sufficiency in beef. According to the AHDB, the UK consumes approximately 1.2 million tonnes of beef a year with roughly 340,000 tonnes imported from overseas.
"As we own our own abattoirs and end to end meat production, we saw an opportunity to connect the supply chains support our dairy farmers even more," said Morrisons agricultural manager, Sophie Throup.
"Having worked with Buitelaar since 2009 on developing the dairy beef market, we already have a good working relationship to build on through the extended programme for Morrisons Arla farmers."
Arla UK said its farmers could help to "evolve farming" and make a supply chain "that works for everyone".
"This move by Morrisons to open up its supply chain to further support our owners, represents everything the Arla UK 360 programme envisioned," said agriculture director at Arla Foods UK, Graham Wilkinson.
"This decision and the support through the supply chain with Buitelaar is the perfect example of how bigger change can be delivered in agriculture if we all work together."