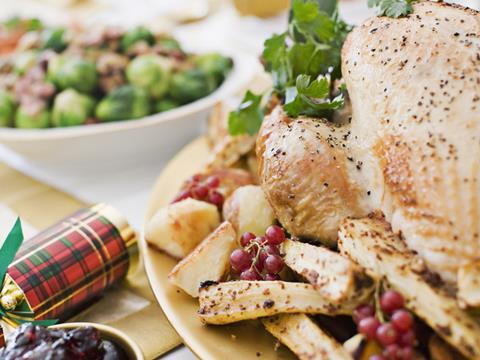 Turkey production costs are up 5% - yet prices in the supermarkets will be cheaper this Christmas than last year, as retailers are footing the bill to tempt shoppers into stores during the crucial festive trading period.

The average price of an own-label Large British Turkey Breast Crown has fallen 67p, or 3.3%, to £19.53 on the same period last year, according to The Grocer 33. Some 70% of Christmas turkeys purchased by UK shoppers are crowns or joints, according to British Turkey Federation chairman Paul Kelly.

This price drop comes despite a 5% rise in production costs in the latter half of the year, caused by feed shortages in the wake of the summer's heatwave. Feed prices spiked 20% compared to last year, forcing breeders to pass on some of the cost increases.

But supermarkets were willing to sacrifice margins to increase footfall in stores, said Kelly.
However, availability is tight after an outbreak of the parasite histomonas meleagridis, which attacks the birds' livers.

"It absolutely decimates entire flocks," said Kelly, who is also MD of Kelly Turkeys. "It killed between 50,000-60,000 turkeys this year, compared with almost none two years ago."

Purchasing company Beacon said there was even potential for a shortage. "Our insight implies we may well see a shortage of turkeys," said the firm's purchasing manager, Alice Bexon. "While large retailers will have their turkey quota already assured, we may see independent retailers and hospitality businesses being hit hardest."

Although the most popular turkey SKUs - crowns and joints - will be cheaper, some cost hikes have filtered through to whole turkeys. Most fresh turkeys are yet to hit shelves, but so far whole frozen turkeys are up an average of 51p on the same period last year [Edge by Ascential w/e 5 December 2018].

The British Turkey Federation is also spearheading a campaign to highlight concerns around food waste. "A lot of the time, the legs will just go in the bin or for pet feed," said Kelly.