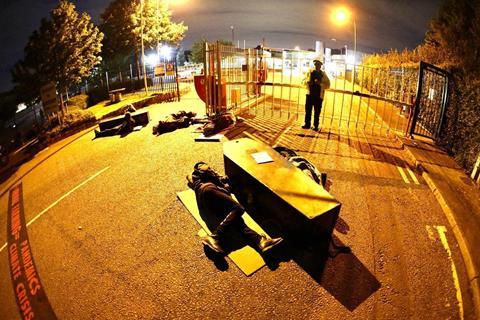 Pilgrim's Pride's pork plant in Greater Manchester has been targeted by a climate and animal rights group styling itself on Extinction Rebellion.
Four protesters from Animal Rebellion, a group that has no affiliation with Extinction Rebellion, are understood to have entered the slaughterhouse in Ashton-under-Lyne at 4am today. One of these protesters remains on the roof of the building.
Meanwhile, another set of activists from the group blockaded the entrance to the site, although they are now understood to have been taken into police custody.
Animal Rebellion said it had taken the action because it viewed animal farming as the cause of pandemics and climate change.
It has demanded that the government outlaws all animal farming, introduces a "sustainable plant-based food system" and better protects meat factory workers from the coronavirus pandemic.
"We want to highlight the vulnerability of slaughterhouse workers who are forced into these horrendous conditions," said Animal Rebellion spokeswoman Stephanie Zupan. "They have had no choice but to continue working during the pandemic, despite multiple virus outbreaks."
Great Manchester Police said officers were in attendance at the scene and had arrested six people on suspicion of aggravated trespassing. One person was still said to be on the roof of the factory, police said.
Pilgrim's Pride, which last week announced it had dropped the Tulip name, said some of its operations had been affected by the activists.
"While [the protesters] are an inconvenience to operations, our main concern is ensuring the welfare of the animals in our care and the safety of our people, as well as the protestors who are putting their own safety at risk," said a spokesman for the meat company.
This article was updated at 13:53 on 7 September when the protest at the site entrance had been ended