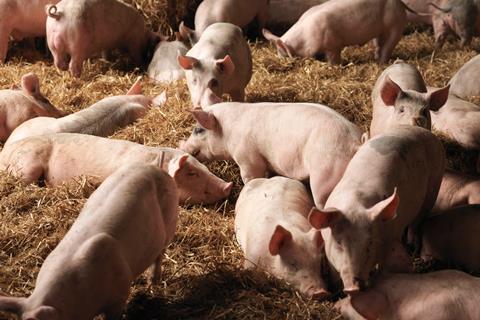 Tesco has announced a major support package for British pig farmers, including an immediate cash injection of £6.6m and a move to increase British pork sourcing.
The supermarket giant's announcement follows the publication of an open letter to Tesco from the National Pig Association earlier this month, calling for greater support for beleaguered British pig producers – amid warnings from the trade body that four out of five could go bust within a year "unless their financial situation improves".
Tesco today said an "accelerated and enhanced payment plan" to top up payments above the cost of production would support a pig sector facing "challenges related to increases in on-farm costs including feed such as wheat and soya".
The plan will see its pork suppliers increase payments to their farmers by a total of £6.6m by August, bringing the overall financial support it had passed on to its pig producers to £10m since the start of March 2022, claimed Tesco. It pledged to work with its suppliers "to ensure the investment gets passed to farmers as quickly as possible".
In addition to financial support, the retailer has committed to increasing its sourcing of fresh British pork, with five lines having been moved to British supply "in recent weeks".
Tesco had also introduced an additional 15 pork promotions in-store since January, it pointed out, had increased its British pork volumes by 30% compared to this time last year and had, since January, taken an extra 32,000 pigs off farms and planned to take a further 22,000 in the months ahead. The NPA has said there are still around 100,000 pigs backlogged on farms due to supply chain issues including a shortage of butchers.
Elsewhere, the retailer added it had just introduced an 'I Love British' brand to its bacon range, with a ham product launching later this month. It said a 5p per pack premium would be "passed onto farmers in the supply chain" from every sale, in what appears to be a similar mechanism to Morrisons' For Farmers range of meat and dairy products. It is understood the brand is the brainchild of one of its pork suppliers Karro.
In the longer term, the retailer has committed to reviewing pricing on a more frequent basis, "providing more flexibility for farmers when market prices change". Tesco said it would "also work with UK suppliers to build a closer relationship with farmers, increase transparency in pig supply chains and ensure they are sustainable for the long term".
The move follows big financial commitments from most of Tesco's rivals to support pig farmers in recent weeks (including a £16m investment by Waitrose in its pig supply chain), and comes less than a fortnight after the retailer was singled out in the NPA's open letter.
Tesco had been "yet to respond to the crisis hurting its pig suppliers", the NPA said at the time.
And unless action was taken now and a fair price was paid, "there will not be a domestic pig industry left to service the demands of your shoppers, and we know how much they value fresh British produce", wrote chair Rob Mutimer in the letter to Tesco CEO Ken Murphy.
But on hearing of the supermarket's new support package, NPA CEO Zoe Davies described the move as a "significant announcement".
"It couldn't have come at a better time," she said. "What we need this support to do now though is push up the SPP price, and we will look in a couple of weeks' time to see if it has had an effect."
AHDB's standard pig price (SPP) currently sits at 171.61p/kg [7 May]. However, producers say the cost of production is now higher than 210p/kg and still climbing, something that would now be exacerbated by India's new wheat export ban – which was already adding further upward pressure to soaring feed prices, Davies suggested.
Tesco fresh commercial director Dominic Morrey said the retailer "fully recognise[d] the seriousness of the situation UK pig farmers are facing and [we] have been working closely with our suppliers to understand what more we can do to support the sector".
Jim Brisby, chief commercial officer for major Tesco pork supplier Cranswick, added: "We've been working with Tesco to find a more sustainable way of paying our farmers for pigs, and we are pleased with the progress we have made to increase the availability of British pork to Tesco shoppers."