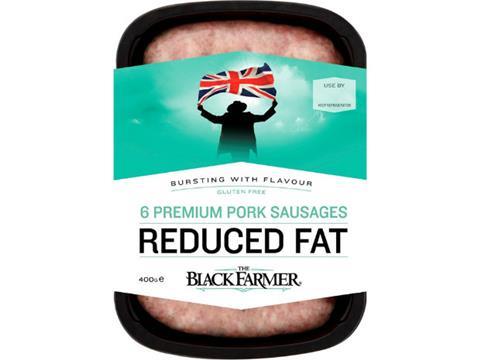 The Black Farmer has launched a reduced fat sausage in a bid to muscle in on the healthy sausage market dominated by Heck and Porky Whites.

Its reduced fat SKU contains 9.8g of fat per 100g, 3.5g of which are saturates, almost 50% less than the brand's premium pork sausages, which contain 19.7g of fat and 8.6g saturates per 100g. The new product is also lower calorie than its premium alternative, at 182 calories compared with 241 calories per 100g.

The brand's gluten-free sausages went on sale in Sainsbury's this week (rsp: £3.15/400g), with Tesco and Morrisons due to pick up the listing in April.

"Many people are on the lookout for healthier options but they also don't want to miss out on enjoying a proper juicy sausage full of flavour," said The Black Farmer founder Wilfred Emmanuel-Jones.

"We attempted to create a sausage with below 3% fat content, but found too much taste was sacrificed, so we've come up with a recipe that balances fat and seasoning while refusing to compromise on flavour. It will help people make a healthier choice if they wish."

Emmanuel-Jones also set out his goals to make his entire range of pork products raised without antibiotics by the end of 2018, following the successful launch of a range reared without antibiotics at the end of last year.

Low-fat sausages Porky Lights, manufactured by Porky Whites owner G White & Co and launched in 2016, created a media frenzy last year when slimmers found the 3.2g of satfat per 100g sausages were worth just 0.5 of 'syn' in Slimming World's scoring system, causing national shortages.

Heck emerged as a challenger later in 2017 with the launch of its Super Slim sausages, claiming 2.7g of fat per 100g.