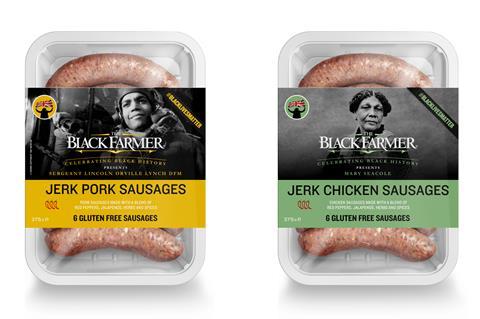 The Black Farmer will mark Black History Month in October with the launch of two Caribbean-inspired sausages featuring the faces of black British heroes Mary Seacole and Lincoln Orville Lynch.
The limited edition NPD will go on sale across the mults, apart from Iceland, as part of a wider Black History Month publicity campaign that will also see retailers set aside end-of-aisle space to promote the event and the brand.
It is launching a jerk pork sausage SKU, which will carry the image of Lynch, a decorated RAF air gunner during the Second World War. Meanwhile, a jerk chicken sausage pack will carry the image of Seacole, a Jamaican nurse who cared for British soldiers during the Crimean war (rsp: £2.50/375g pack).
Proceeds from the sale of the sausages would be donated to black charities the Black Cultural Archives and the Mary Seacole Trust, said The Black Farmer founder Wilfred Emmanuel-Jones, who has campaigned for several years for greater racial diversity across the grocery sector.
Positive feedback to a comment piece he wrote for The Grocer earlier this summer inspired Emmanuel-Jones to "go one step further" and lobby the CEOs of the major supermarkets to do more to mark Black History Month.
Published at the height of the global Black Lives Matter protests in June, the article slammed the "worrying silence" from the food sector on the issue and claimed retailers had not done enough to tackle a long-standing lack of diversity across both staff and suppliers.
"I [told the retailers] change needs to happen on this issue," said Emmanuel-Jones. "Some, like the Co-op and Sainsbury's, responded positively, while others needed convincing, but I managed to get all the major retailers apart from Iceland to take part in the campaign.
"There's a real need for black people to see themselves represented in the grocery industry, it needs to catch up fast. That lack of representation is no longer acceptable, the whole BLM movement should serve as a wake-up call."
As part of the campaign, the brand has also invested in a multi-channel marketing push, which includes a new TV ad that will depict black British faces against the soundtrack of songs Land of Hope and Glory and Jerusalem.
The Black Farmer was also looking at ways to promote black suppliers for Black Friday in November, said Emmanuel-Jones, who dismissed recent concerns over the use of Land of Hope and Glory at the proms due to its links to colonialism.
"I wanted to claim those songs as our own. Just like old houses, we should be remodelling them for modern times, rather than just getting rid."