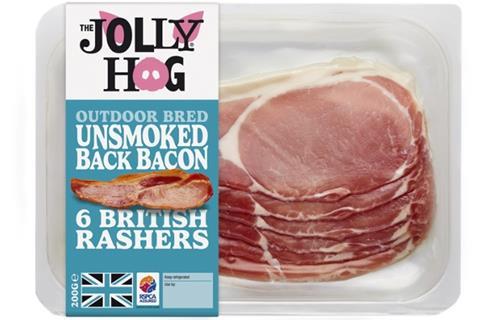 The Jolly Hog has launched its first rebrand since its 2007 launch, with new packaging set to hit shelves at the end of the month.
The Bristol-based brand has updated its branding in a bid to better communicate its high-welfare and product quality credentials, while also improving standout on shelf.
It has also added images of cooked product on pack to improve "taste appeal" and included bold, bright typography and colours to entice consumers.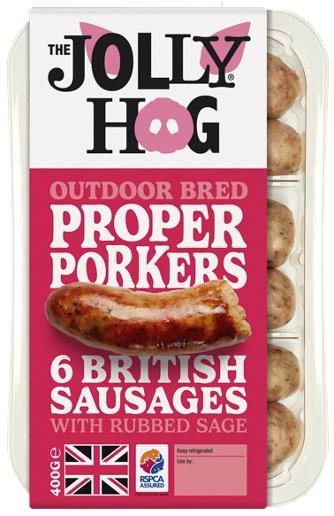 The rebrand has been implemented across its entire range with sausages and bacon SKUs leading the way and other categories including snacking, slow cook and beef to follow.
"A desire for consumers to eat better quality meat as well as reducing the amount they are eating, coupled with a cost of living crisis that is driving consumers to eat more in home, we are seeing demand for our products grow," said Olly Kohn, co-founder of The Jolly Hog. "It is the perfect time to invest in a fresh new look and our first above the line campaign."
In support of the rebrand, The Jolly Hog is also launching its first ever OOH ad campaign, featuring the strapline 'Time for a Jolly' to drive brand awareness and to celebrate occasions where consumers come together to share a meal.
"Food is at the heart of together time for our consumers, and particularly at the moment, special moments gathered with friends and family around a decent meal feel all the more important," said head of marketing Christine Everett.
"We may be doing it less, so when we do it, we want to make it extra special. 'Time for a Jolly' is all about recognising those special shared moments, and putting The Jolly Hog at the heart of them," she added.
The campaign launched on buses and billboards across Bristol in time for the May bank holiday weekend.