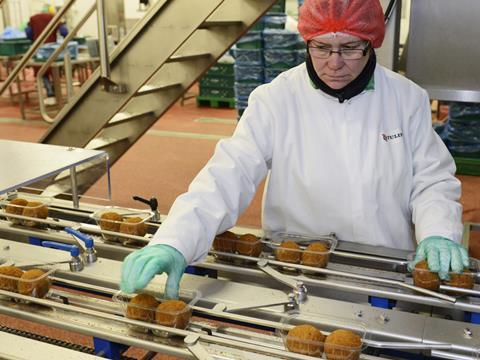 The financial difficulties facing pork giant Danish Crown have been laid bare after it warned it would need to make a second round of job cuts and cost savings in less than three months.
The owner of pork processor Tulip today warned it would need to cut between 300 and 400 jobs across the group, while it would be "intensifying" a group-wide cost-saving programme in a bid to save DKK 350m (£41m) this financial year.
The cuts are in addition to the announcement of 150 immediate job losses across the UK Tulip operation in November, alongside cost savings of DKK 200m (£24m) during the 2018/19 financial year, prompted by net operating losses of DKK 260m (£31m) for the 2017/18 financial year.
Tulip's operating costs had been found to be far too high, said Danish Crown CEO Jais Valeur in November, while it had been unable to "fully optimise" its UK supply chain.
Despite since winning "several important contracts" in the UK, which had bolstered sales and helped it move in the right direction, costs were still too high, Valeur warned. Danish Crown's overall financial performance had been further hampered by under-performance elsewhere in the group, he added.
Tulip's Danish division was being affected by fierce competition in the Danish retail sector, while earnings in the group's largest business area, Danish Crown Pork, were "not living up to expectations", the supplier suggested.
Low pork prices
Prices for fresh pork were also being held back by concerns about the spread of African swine fever in France, and it was "very difficult" to say when the market would turn.
"As a result, all the abattoirs in central Europe are selling all their meat fresh, while also clearing their stocks at a time of year when they would normally be building them up," Valeur said.
"We're implementing measures now to keep us on track to achieve the budgeted profit for the year," he added, while pointing out the business would also maintain the hiring freeze it initiated last year, alongside a freeze on the use of consultants.
Investment in the business would continue, but Valeur stressed Danish Crown was in the process of identifying projects that could be postponed.
"Right now, we don't have the competitiveness that we're striving to achieve compared to the EU index. This is primarily due to the particular challenges we're facing in the UK, but the tough battle for pigs in Germany, and the advance of the Spanish abattoirs, is not helping either."
Danish Crown declined to comment on where the job cuts would be made, adding they would be subject to employee consultation, but it noted further reductions were being considered at Tulip as part of its "comprehensive programme to improve operational efficiencies".
This is not the first time Tulip in particular, has faced difficulties. Former CEO Steve Francis warned the business had "lost its edge" when he took over in September 2016. In an interview with The Grocer in December 2017, Francis – who took over as CEO of Patisserie Valerie last November – admitted the company was losing £1m a week at the time.