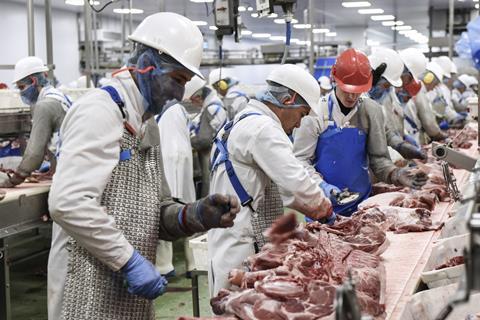 The Tulip brand will disappear from 31 August after the pork giant announced plans to adopt the name of its parent by switching to Pilgrim's Pride Ltd.
The move marks the end of an era for a brand that has been present in the British meat market for over a century – with Tulip among the early trailblazers of the Danish pork export trade to the UK in the 1910s.
Danish Crown acquired what ultimately became Tulip International in 1998, amid a period of consolidation in the Danish pork sector. The Scandinavian farming co-op established Tulip Ltd in 2004 as its UK pig farming and processing operation.
Today's business has been shaped by the subsequent acquisition of businesses including Hygrade, Flagship, Roach, Dalehead, Geo Adams, Parkham and BQP.
But as Tulip marked a year since its £290m acquisition by JBS-owned US meat giant Pilgrim's Pride last August, the time was now right to adopt the identity of its new owner, suggested CEO Andrew Cracknell.
"The Pilgrim's culture, vision, values and strategy perfectly translate to our business and seamlessly complement the strong foundations of our business," he said.
"This is an important milestone as we continue our integration into the Pilgrim's family, and an exciting time for the Pilgrim's UK team, our farmers, customers and suppliers."
A full rebranding project is now being rolled out across the business and will continue into 2021.
Pilgrim's Pride also owns Northern Ireland-headquartered poultry giant Moy Park.