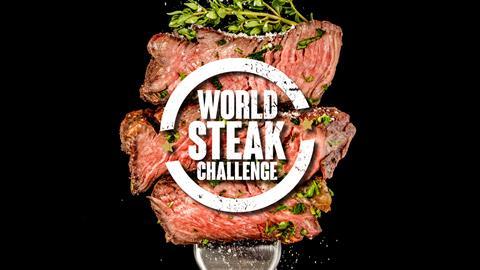 International meat competition the World Steak Challenge has attracted a record number of entries as it gears up for its sixth edition in Dublin next month.
After last year's event was postponed due to the pandemic, this year's event, run by The Grocer's publisher William Reed, will see 50 independent judges converge at Fire Steakhouse & Bar in the Irish capital. They will test out and crown the world's best steak, and name 2021 champions in the sirloin, ribeye, fillet, grain-fed and grass-fed categories.
It comes as Britons splashed out £811.6m on fresh beef steaks in the 52 weeks to 8 August 2021, suggesting the pandemic-driven resurgence in the popularity of meat shows no sign of waning.
The figure was up 11.3% on the £729.4m spent the previous year, the latest data from Kantar shows.
As well as steaks, premium beef product ranges including the likes of Waitrose Organic, Tesco Finest and Sainsbury's Taste the Difference grew in popularity, accounting for 5.6% of the total beef market in the 52 weeks ending 8 August 2021, compared with 4.6% the year before.
Meanwhile, demand for cheaper beef products continued to wane, cementing a three-year trend. Economy beef made up 4.1% of all beef sold in the 52 weeks to 8 August 2021, down from 5.8% last year, 6.9% in 2019 and 7.3% in 2018.
Keith Fisher, Institute of Meat CEO and advisor and judge of the World Steak Challenge, said he wasn't surprised by the findings.
"During the lockdowns, people were restricted on where they could go and eating out became a 'dine at home' situation," he said.
"Many may have wanted to recreate that feelgood restaurant experience and upgraded to better-quality beef steaks," he added. "There now seems to be a far greater number of really top quality, well-cut, well-trimmed steaks on display in store."
This year's World Steak Challenge takes place on 10 November in association with official host partner Bord Bia.
"When it comes to steak, there's never been so much choice for the consumer and this is a trend we've seen each year with entries into the World Steak Challenge," said William Reed head of events Ellie Knight.
Earlier this year, separate Kantar sales figures for Hybu Cig Cymru/Meat Promotion Wales for the 12 weeks to the start of February showed that locked-down Brits were looking beyond beef mince to create more "at-home restaurant experiences" with premium red meat cuts.
The findings represent a turnaround from the start of the first lockdown in 2020, when the meat sector – counting the cost of veganism's rise in popularity – suddenly faced the added challenge of a rush for mince from panic-buying shoppers.