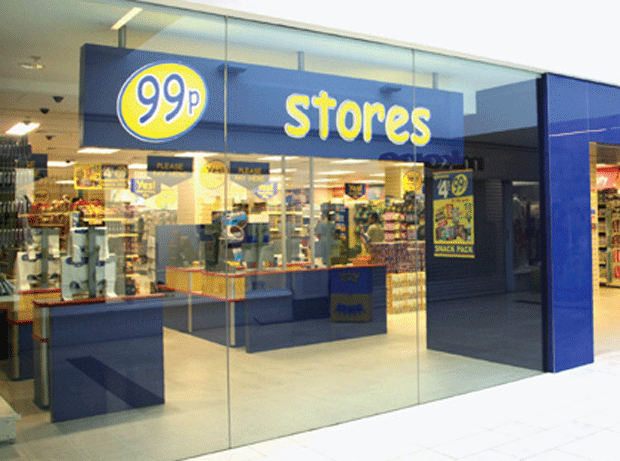 Poundland's (PLND) attention-grabbing acquisition of rival operator 99p Stores for £55m was rapturously received by the City, with shares in the retailer flying throughout the day by 13.25% to 405.21p. It is the stock's highest point since the IPO in March and tipped Poundland's market cap to past £1bn – the company was valued at £750m when it floated.
The benefits of the deal are obvious as it adds 251 stores to Poundland's portfolio at a stroke, giving it more than 800 shops in the UK and Ireland – making significant and hurried headway towards it stated target of 1,000.
In an already crowded sector, it takes a nuisance competitor, which targeted openings close to Poundland outlets and cheekily made much of the fact it had an even cheaper offering, off the high street.
"Having always said that it wasn't interested in buying out its aggressive but smaller rival 99p Stores because it was opening its new stores so close to its own, as it came south, Poundland has decided that it is better to deal with the nuisance by pursuing a path of 'consolidation' and buying the company," retail analyst Nick Bubb said.
House broker Shore Capital called the acquisition "wholly consistent with strategy", adding that the deal would increase its presence in Southern England and retail parks, boost its store expansion plans, consolidate its position in the discount sector and potentially provide sourcing benefits.
CEO Jim McCarthy added in a quick chat with The Grocer that the deal was a "step change in pace" for Poundland's store expansion strategy but was keen to stress it had no impact on the organic programme which aims to open 60 shops a year.
He refused to be drawn on whether the transaction would mean some of the 99p Stores sites would close but added all the estate had been assessed and the process would continue to be ongoing.
"Clearly the more stores we can open, which justify operating on a financial return basis, the better the deal is," he said. "Poundland itself does have cities in the UK where we have three stores in close proximity to each other, as well as competition, and they make good returns. It is all about customer flows and pedestrian routes and it doesn't necessarily follow that just because you've got a 99p next to Poundland that we would close one."
ShoreCap analyst Darren Shirley noted that 99p Stores historic margins are considerably below Poundland's – 99p Stores margins for the year to 1 February 2014 were 1.6%, compared with a forecast 5.4% for the 2015 financial year for Poundland.
However, McCarthy is confident his team can improve the performance of each site it transforms to the Poundland proposition.
"Our sales per sq ft is greater than theirs, which reflects the quality and breadth of our offer and the broad appeal," he said.
"Once we have overlaid our proposition, the performance will be stronger and that will convert, ultimately, following full integration, into accretive earnings."
Greater scale and sourcing capabilities contributed to Poundland's healthy margins, McCarthy added, and he expects that to be moved through to each store as they are opened, with higher sales densities than before followed by a dilution of costs.
"It brings, in one go, £350m in turnover, but that is of no real assistance unless you can turn it into profits and we believe putting the Poundland proposition into these sites has broader appeal than the 99p brand – all the market research tells us that," the Poundland boss said.
The elephant in the room in all this of course is that the deal is yet to be completed as it awaits a decision from the Competition & Markets Authority.
Not to second guess the merger watchdog's findings, but it seems unfair to worry about a possible monopoly with such a rich sector chock full of competition: Primark, Lidl, Aldi, TK Maxx, B&M, Home Bargains, Poundstretcher, Poundworld, Wilkinsons roll off the tongue when thinking of discounters, not to mention independents and market traders selling their wares up and down the country.
But the sticking point may well be how the CMA views Poundland's place in the market. If it just views it against Poundstretcher, Poundworld and 99p Stores, rather than the more general retail sector, then there may be a problem.
McCarthy remains upbeat about the deals chances of getting past the eagle eyes of the regulator. "Naturally we are optimistic because we think the strength of the evidence is that we compete with everybody, and operate 17 different categories, so we see everybody as competition," he said. "We think, with the enlarged company, we are only 0.4% of the UK retail market."
However, he is keeping his feet, and expectations, on the ground and stresses that Poundland's growth is not dependent on gaining CMA approval and the deal completing.