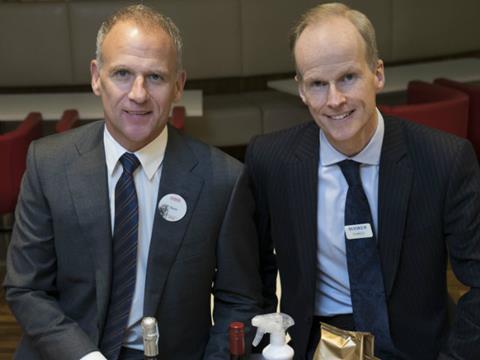 The feeling for Dave Lewis and Charles Wilson yesterday must have been a bit like waking up on Christmas morning, having already discovered your brand new bike hidden in the loft a few weeks ago.
Last month came the CMA's bombshell that it had provisionally decided in favour of their £3.7m megadeal, without any of the expected store disposals. Tesco and Booker were always confident they would sail through the process, so it must have come as little surprise when the competition authority gave its final seal of approval yesterday.
The regulator's rubberstamping marks the end of a process that surely has gone far more smoothly than even the optimistic pair could have imagined when they stunned the food and drink industry with their plans just under a year ago.
For bitter opponents, reading the CMA's verdict must feel less like an early Christmas present and more like an untimely dose of the norovirus.
Certainly there was no Christmas cheer for anyone holding out distant hopes of a CMA backtrack following the collapse of P&H, or a twist in the tale to threaten the go-ahead.
Simon Polito, chairman of the CMA inquiry group, was again at pains to insist the regulator had carefully listened to retailer and wholesaler concerns.
"Retailers have told us they shop around for the best prices and service from their wholesaler, and we are confident this will continue after Tesco buys Booker," he declared.
Yet the clearance comes in the face of huge opposition to the deal from wholesalers including Bestway, Bidfood, Confex, Landmark, Spar, Sugro and Today's, which have warned of a devastating impact on competition and that Booker would be able to raise prices to the shops it supplies.
These were, of course, those described as "little islanders" by Charles Wilson recently in an incredibly frank interview with The Grocer.
The CMA's final verdict provides precious few crumbs of comfort for any of those opponents and, while it word for word mirrors the provisional findings, it is worth reading in full its conclusion yesterday about just why wholesalers should go into 2018 confident they can survive.
"Recent changes in the industry indicate some rival wholesalers might be able to offer prices competitive to the merged entity," it states. "Morrisons has recently announced it will supply Safeway products and national brands to some retailers. Separately, the Co-op has recently announced a bid for Nisa." (We await further news from the CMA on that, too.)
It adds: "Another possible response could be for wholesalers to strengthen competition on non-price aspects such as service quality differentiation. These might include quality of range, service offering to symbol group retailers and delivery logistics."
It is hard to imagine what will be more galling for retailers and wholesalers: the message that if they can't beat Tesco and Booker they should join them by launching a multi-million merger of their own (alright if you have the pockets or indeed the suitable targets to buy); or that they should step up their game and start providing better service and quality. Why didn't anyone think of that?
As for Tesco and Booker, the next challenge comes from within as they go into the new year preparing to make the case for approvals from their own shareholders. But, as both companies go into the shareholder vote with confidence, it would take a twist of Trump-like proportions to take the broad smiles off the faces of Lewis and Wilson.