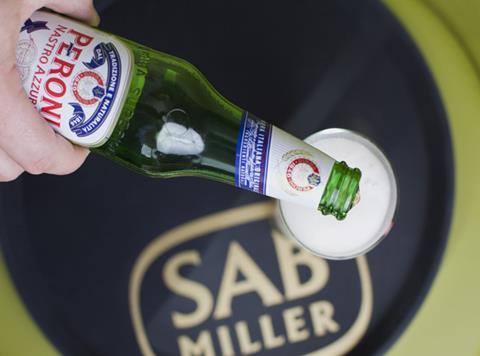 It's no secret that a combined AB InBev and SABMiller will be forced to sell-off a number of brands to get the deal past various regulators, but news that top European brands are potentially being lined up for sale comes as more of a surprise.
Weekend reports that AB InBev is planning to sell-off SABMiller's Peroni and Grolsch brands are noteworthy because EU regulators were widely expected to green light the deal after a couple of small portfolio tweaks at most.
Peroni has been built into SAB's jewel in its European crown and supposed plans to sell it off will ring alarm bells for those concerned about the brewer's brand legacy in a newly merged company.
But more importantly it indicates where Europe ranks in the list of AB InBev's post-deal priorities – not very highly.
That AB InBev is potentially handing over Peroni and Grolsch way in advance of any suggestion the EU would demand such large-scale portfolio divestments shows AB InBev is prioritising an easy regulatory ride in Europe over hopes of securing domination of the premium beer market in the region.
AB InBev will face plenty of regulatory hurdles to get the deal over the line and it seems to have concluded that Europe simply isn't a fight worth having.
On the one hand, such a surrender is hard to understand at this stage. Although a combined ABI and SAB would comfortably be the EU's largest brewer, there are few markets where its market share would breach acceptable levels – generally thought to be around the 30% mark.
Bernstein analyst Trevor Stirling noted that the potential for overlap exists in Italy and Netherlands (where combined market share is 30% and 27% respectively) and UK market share is over 20% and overlap in local brands could be a problem in Poland.
There is the possibility that regulators would slice the beer market more finely and specifically look at overlap within the premium beer sector – where, as The Grocer previously noted, the pair have seven key brands and significant European overlap.
But any EU issues were expected to be sorted out by small portfolio divestments rather than selling off some of these premium international brands.
The reason AB InBev is prepared to take the hit in Europe is because the deal is all about driving value in markets where there is currently little overlap – namely Latin America and Africa.
AB InBev is not particularly interested in becoming a European mega-brewer (although it will be by default). As western beer consumption slows the real money is to be made from consumers in emerging markets trading up from local brews to more premium international brands.
If tapping these markets means shedding some western brands – as is already the case with the sale of SABMiller's 58% stake in MillerCoors to its joint venture partner Molson Coors – then so be it.
In western markets, the merger could actually end up being good news for the "megabrew's" rivals as they pick up high-quality assets from a forced seller under time pressure to agree divestments. Peroni and Grolsch will have plenty of suitors - Heineken, Molson Coors and Irish cider firm C&C are already said to be in the running to take advantage to build their own market shares in Europe.
The EU is far from the biggest regulatory hurdle the deal faces – notably there is overlap in China and, given SABMiller's heritage, South Africa could prove a stumbling block.
Selling off Peroni and Grolsch suggests that AB InBev is focussing all its energies on these bigger, more important, battles to come.