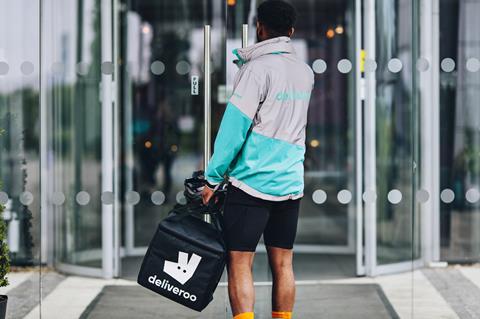 The competition watchdog has given Amazon and Deliveroo five days to address its concerns that a tie-up between the two could harm grocers, restaurants and consumers.

The companies must come up with legally binding proposals to address the Competition & Markets Authority's concerns or face the possibility of a full-scale investigation.

The CMA believes Amazon's attempt to buy a minority stake in Deliveroo could lead to higher prices and lower quality services.

"Millions of people in the UK use online food platforms for takeaways, and more than ever are making use of similar services for the same-day delivery of groceries," CMA executive director Andrea Gomes da Silva said today (11 December).

"There are relatively few players in these markets, so we're concerned that Amazon having this kind of influence over Deliveroo could dampen the emerging competition between the two businesses.

"If the deal were to proceed in its current form, there's a real risk that it could leave customers, restaurants and grocers facing higher prices and lower quality services as these markets develop. This is because the significant competition which could otherwise exist between Amazon and Deliveroo would be reduced."

Deliveroo announced in May that Amazon would acquire rights and a minority shareholding after leading a £450m funding round in the food delivery business.

Amazon operated its own food delivery platform, Amazon Restaurants, in the UK from 2016 until November last year. Its departure has left just three main players: Deliveroo, Just Eat and Uber Eats.

The CMA said evidence uncovered in Amazon's internal business documents and interviews with senior management led it to believe the online retail giant had a "strong, continued interest in this sector and a material likelihood" of re-entering it, a development which would increase competition.

Because the deal with Deliveroo could discourage Amazon from re-entering the market, it could damage competition, the CMA said.

The authority also said the deal could damage competition in the emerging market of "ultrafast" convenience grocery delivery, where the two companies had already established market-leading positions.

While there were other players, like Ocado Zoom's delivery partner Stuart, those firms didn't have the same scale as Amazon and Deliveroo, the CMA said.

An Amazon spokesman said a "home-grown UK business like Deliveroo" should have "broad access to investors".

"Amazon believes that this investment funding will lead to more pro-consumer innovation by helping Deliveroo continue to build its world-class service and remain competitive in the restaurant food delivery space by creating more highly-skilled jobs, innovating in the restaurant food delivery sector, and developing new products for customers," the spokesman said.

A spokesman for Deliveroo said the company had been working closely with the CMA and would continue to do so.

"We are confident that we will persuade the CMA of the facts that this minority investment will add to competition, helping restaurants to grow their businesses, creating more work for riders, and increasing choice for customers," they said.

"Deliveroo is a British company operating right across the country and this investment will be particularly beneficial to the UK economy," the spokesman added.