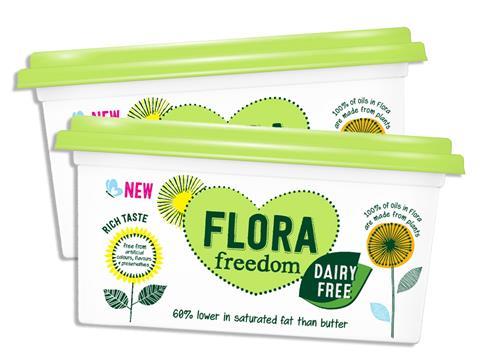 The ongoing underperformance of Unilever's spreads business continues to negatively affect the company, SocGen analysts have warned, and should prompt its leadership to finally opt for a 'Sprexit' and exit the category altogether.

A long-awaited sale of the business, which was hived off into a separate unit by Unilever last year, would benefit growth, said SocGen analysts Arthur Reeves and Warren Ackerman in a briefing note this week, and would allow Unilever to focus more on the personal care category and emerging markets.

The potential sale of the unit, which counts the likes of Flora, I Can't Believe It's Not Butter, Stork and Bertolli as its key brands, has been on the cards since Unilever announced its spreads business was being hived off into a separate unit at the end of 2014, and a survey of 100 investors by Bernstein last March found that a sale of the business would allow Unilever to regain momentum.

However, news of a sale has yet to emerge, despite previous City rumours there could be synergies between the business and the now smaller, and more brand-focused, Dairy Crest and comments made by Unilever's CEO Paul Polman in January that the company was "looking at all options", and could "get rid of this business tomorrow by giving it away to someone".

Citing Polman's comments that he wished to "see improvements in 2016", and if it did not "we will have to think about other things", the situation was increasingly "getting harder for Unilever's spreads business," said Reeves and Ackerman.

"Consumption in its key markets continues to fall; world dairy prices remain depressed, reducing the price advantage of spreads, and doctors tell us that saturated fats aren't bad for us," the note said.

"It moved its US and European spreads business into a standalone unit over a year ago but we doubt that this has held back the tide, despite a change of divisional CEO and several new marketing initiatives, and we think that spreads performance is increasingly negatively affecting the company."

Any sale could boost dividends from 74% to 85%, SocGen said, and would help its share of sales in emerging markets increase from 58% to 61%.

A Unilever spokeswoman declined to comment on the future of the division.