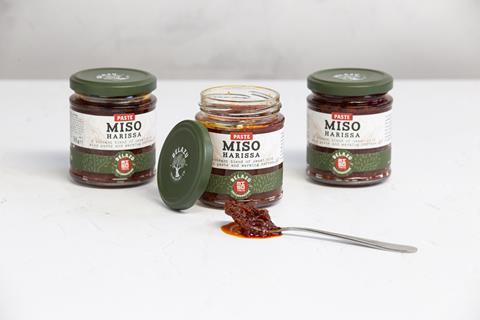 Ingredients brand Belazu has picked up Miso Tasty to expand its offering after collaborating with the brand since last year.
It is the first acquisition made by Belazu in its 23-year history, with the premium balsamic vinegar, olive oil and ingredients brand now itself part of the William Jackson Food Group following a 2018 takeover.
Miso Tasty founder Bonnie Chung remains part of the business and is working with Belazu on the integration and transition, while all staff have also transferred across to the new owner.
Miso Tasty and Belazu remain as standalone brands within William Jackson following the pre-pack administration deal.
Belazu teamed up with Miso Tasty last year to launch a limited-edition miso harissa cooking paste
"Following a successful product collaboration in Ocado with Miso Tasty in October, we've grown close to the brand and are delighted that Bonnie and the team have become part of Belazu," MD David Balmer said.
"This has been made possible thanks to our parent company and shows the Group's commitment to investing in our long-term growth."
He added: "Through no fault of the business, Miso Tasty went into administration and we were pleased we could be there to support and help them continue to build their brilliant brand.
"Bonnie founded Miso Tasty in 2014, with a mission to bring Japanese ingredients into everyday cooking in the UK. It's an inspirational foodie business with 20 chef-grade products listed in Waitrose, Ocado, Tesco and Sainsburys, and also has listings at Coles and Woolworths in Australia. It's great to be welcoming Bonnie and her team to Belazu and I'm looking forward to watching the brand grow as part of Belazu.
"We're very excited about our future together."