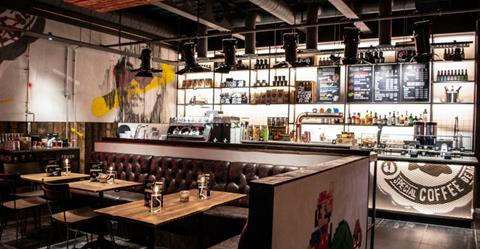 Independent coffee chain Black Sheep Coffee has acquired cafes from rival Taylor St Baristas broadening its London presence amid plans for global expansion.
The move comes just a month after securing £13m new funds from private investors to back its international growth plans across Europe, Asia and the US.
As part of its first ever acquisition, Black Sheep – which already trades from 22 shops and kiosks around London – picked up all of Taylor St's own UK shops except its South Quay café, adding eight sites to its presence in the capital.
It now trades from 35 locations worldwide.
The business founded in 2013 by Gabriel Shohet and Eirik Holth has also bought the licence to operate the eight sites under the Taylor St name, as well as transferring 74 staff member to its staff base, now employing a workforce of around 350.
Financial details of the transaction were not disclosed.
Following the shops sale and a strategic review, Taylor St appointed administrators at David Rubin & Partners, as the remaining business was left facing high levels of debt.
"Following a strategic review of the company's finances, the directors concluded that the highly leveraged capital structure of the business was no longer sustainable, and that the balance sheet was carrying too much debt to facilitate ongoing trading," joint administrator Asher Miller said.
"Consequently, facing insolvency, in order to protect the business the directors took steps to place the company into administration."
The administrators will now conduct a marketing exercise to find buyers for all, or part, of the remaining business and maximise returns to creditors.
Due to the "strong" underlying fundamentals of the business, Miller expects to receive "substantial interest" from potential buyers in the coming weeks.
He added: "We are very positive about the prospects of achieving a sale, and indeed, even at this early stage we have already received expressions of interest from multiple third parties."
Following the sale of its eight cafes, Taylor St employs around 30 staff members across the remaining retail, wholesale, barista training and head office functions.
The shops operated by the company, as well as its wholesale arm, will continue trading and fulfil all orders from customers without interruption to supply.
Taylor St was established in 2006 by siblings Andrew, Nick and Laura Tolley, the founders of Harris + Hoole – the coffee chain acquired by Tesco in 2016 and subsequently sold to Caffè Nero for an undisclosed sum.
It traded from nine own shops in London and one in New York, as well as supplying coffee from its roastery in Deptford to cafes and restaurants. It also runs a webshop and coffee subscription service for customers wanting to buy online.