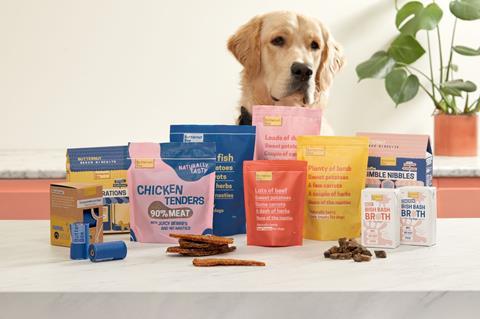 UK-based DTC dogfood player Butternut Box has strengthened its position in continental Europe with the acquisition of Polish fresh dogfood company PsiBufet
Butternut Box claims to already be Europe's largest fresh dogfood brand, with a market presence in the UK, Ireland, the Netherlands, Belgium and now Poland after the acquisition.
PsiBufet, founded in 2012, is a leading fresh dogfood company in Poland producing individually tailored fresh food for dogs.
With this acquisition, PsiBufet's customers will enjoy "better quality fresh food, a wider range of products, and a more advanced online customer experience".
Meanwhile, the deal enables Butternut Box to expand its activities to Central and Eastern Europe, with Poland serving as a regional hub for the group's operations and enabling wider growth into Europe.
Kevin Glynn, co-founder of Butternut Box, commented: "PsiBufet shares our commitment to providing dogs with fresh, wholesome, nutritious meals, and we are excited to bring their expertise and product offerings into our portfolio.
"This acquisition allows us to scale our operations in Europe and bring the Butternut Box experience to even more dog owners and their beloved dogs."
Piotr Wawrysiuk, founder, and CEO of PsiBufet, added: "Butternut Box has been supporting us for over three years. It is not only a capital investor but above all a strategic one, sharing their knowledge and experience. Our companies share a common organisational culture and, above all, a mission: to provide health and happiness to dogs and their humans all over the world."
Since its inception in 2016, Butternut Box has grown rapidly, raising over £100m in capital to date including investment from L Catterton, White Star Capital, Five Seasons Ventures, Passion Capital, Literacy Capital, Claret Capital and HSBC.
In the year to 26 December 2021 the group saw sales jump 51% to £34.9m, building on the 114% growth seen in the previous period.
Growth was driven by new customer acquisition, positive customer retention and the launch of a wider product offering, underpinned by the completion of a new production facility.
However, the launch of the facility, along with higher marketing costs and increased headcount, saw its operating losses increase by 154% from £6.1m to £15.4m.