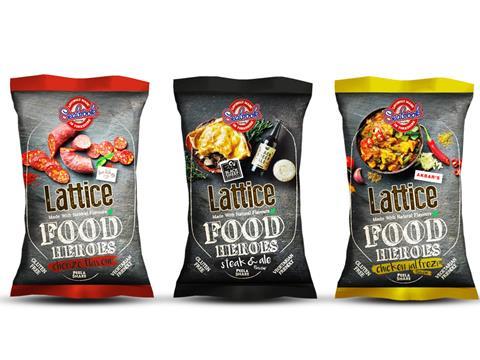 Japanese snacking giant Calbee has agreed to acquire Seabrook Crisps for an undisclosed sum.
Calbee UK, part of the wider Japan-based $2.3bn global snack company, has acquired the 160-strong Seabrook operation to add to its existing 80-strong UK business.
Seabrook produces a range of crinkle cut, straight cut and lattice crisps, as well as low-calorie snacks, from its headquarters in Bradford, producing more than 250 million bags of crisps a year.
Seabrook chief executive Jonathan Bye will continue to lead the brand.
The Grocer revealed in March 2017 Seabrook had hired investment bank Houlihan Lokey to explore strategic options, including a possible exit for private equity investor LDC, which backed a £35m MBO of the brand in July 2015.
Calbee is keen to expand its UK snacking business and was understood to have missed out on Butterkist and more recently Tyrrells, both to Intersnack.
It has also been linked with a deal to buy Pipers Crisps, according to market sources.
Richard Robison, MD of Calbee UK, said, "We are hugely excited by the obvious fit that Seabrook represents for us in bringing the mainstream snack of potato-based crisps into our product portfolio."
"Bringing together Calbee UK, which boldly strives to disrupt the UK snacking category through exciting innovation, with the strength of the iconic, dynamic, challenger Seabrook brand, is a powerful move to leverage our combined strengths, accelerate our growth and increase our market penetration."
Robinson added, "Seabrook is a company with a great history, tradition and numerous first to market initiatives and serves as a perfect complement to the ambitious, young business that is Calbee UK. We are firm believers in the power of iconic, local hero brands, and we aim to leverage these strengths for further expansion. This strong alliance will provide mutual benefit and long-term success for both companies and their colleagues."
For the financial year ending March 2018 Seabrook recorded revenues of £29.8m and EBITDA of £5m, up 9% and 28% respectively during LDC's tenure.
Over the past three years, LDC has supported the growth of the business through new product development, investment in its manufacturing facilities and driving international sales opportunities, which have helped to grow the Seabrook brand.
Jonathan Bye, Chief Executive of Seabrook added, "This development will enable us to build upon these successes. It's an exciting time for our people, customers and suppliers as we embark on the next phase of our growth journey. We have ambitious plans and are looking forward to delivering these as part of the Calbee family. "
"The LDC team invested more than £5m into our site in Bradford and we now have excellent operational facilities that allow us to continue to produce great crisps. It's only with their support that we have been able to outperform the crisp category with the Seabrook brand, won significant new private-label business and expanded overseas."
Calbee UK were advised by Spayne Lindsay & Co, while LDC and Seabrook management were advised by Houlihan Lokey.