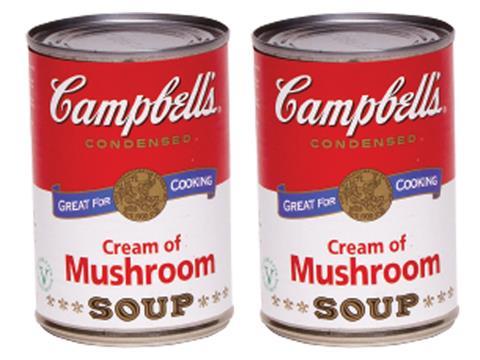 US food group Campbell Soup Company has agreed to buy Kettle Chips and Metcalfe's Skinny owner Snyder's-Lance for $4.9bn (£3.7bn) to expand its exposure to the faster growing snacking market.
The deal, which values Snyder's at $50 a share, an almost 30% premium to the closing price on 13 December when rumours of the acquisition appeared in media reports, would "dramatically transform" Campbell's, the group said.
Campbell's baked snacks portfolio and Snyder's-Lance's stable of brands will have combined revenues of $4.7b, with the transaction to boost Campbell's annual sales to more than $10bn.
Synergies from the deal are expected to be $170m by end of the 2022 financial year.
It follows Hershey snapping up Tyrrells owner Amplify earlier today for $1.6bn.
"The acquisition of Snyder's-Lance will accelerate Campbell's strategy and is in line with our purpose, 'real food that matters for life's moments'," Campbell's CEO Denise Morrison said.
"It will provide our consumers with an even greater variety of better-for-you snacks. The combination of Snyder's-Lance brands with Pepperidge Farm, Arnott's and Kelsen will create a diversified snacking leader, drive sales growth and create value for shareholders.
"This acquisition will dramatically transform Campbell, shifting our centre of gravity and further diversifying our portfolio into the faster-growing snacking category. We look forward to welcoming Snyder's-Lance's employees and their trusted family of leading brands to our company."
The acquisition would accelerate Campbell's access to faster-growing distribution channels, including the convenience and natural channels, the group added.
Campbell's baked snacks product portfolio generated approximately $2.5bn in net sales in 2017. With the addition of Snyder's-Lance's brand, snacking will represent approximately 46% of Campbell's annual net sales (previously 31%).
Campbell's soup portfolio, including the recent acquisition of Pacific Foods, will make up about 27% of the company's revenues.
Snyder's-Lance reported $2.2bn in net sales for the 12 months ended 30 September 2017. Its brands include Snyder's of Hanover, Lance, Kettle Chips, Cape Cod, Snack Factory Pretzel Crisps, Pop Secret and Metcalfe's Skinny.
CEO Brian J. Driscoll said: "Following a thorough review process of strategic options, we believe this transaction maximizes value for our shareholders through an immediate and certain cash premium.
"The transaction also unlocks the value of our portfolio, reflecting the progress we have made planning and executing our transformation. We are excited to join Campbell and to continue to provide great products to our consumers with an uncompromising focus on ingredients, quality and taste."
This is Campbell's sixth acquisition in five years. The company acquired Bolthouse Farms in August 2012, organic baby food company Plum in June 2013, biscuit company Kelsen in August 2013, fresh salsa and hummus maker Garden Fresh Gourmet in June 2015, and organic broth and soup producer Pacific Foods in December 2017.
Like other global packaged food groups, Campbells has struggled in the fact of changing consumer tastes.
The acquisition has been approved by the boards of directors of both companies and now needs shareholder and regulatory approvals.
Campbell plans to finance the acquisition through $6.2bn of debt, comprising a combination of long-term and short-term debt.
Credit Suisse acted as lead financial adviser to Campbell in this transaction. Rothschild also acted as a financial adviser to Campbell. Weil, Gotshal & Manges acted as Campbell's legal counsel. Goldman Sachs acted as lead financial adviser to Snyder's-Lance. Deutsche Bank has also acted as long-time financial adviser to Snyder's-Lance. Jenner & Block acted as legal counsel to Snyder's-Lance.