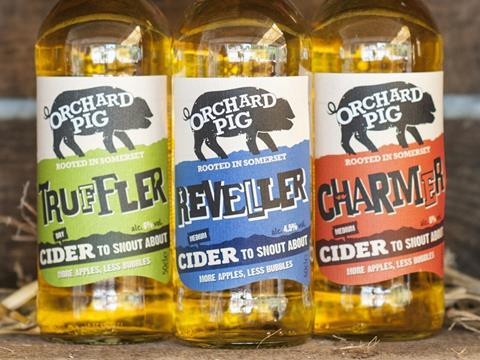 C&C Group is looking to bolster its craft portfolio to tap the growing trend for more premium beers and cider as it emerged it has acquired British craft brewer Orchard Pig.

C&C invested a small sum in Somerset-based Orchard Pig in 2012 and has worked with the brand for the past five years before taking full ownership in April, The Grocer has learnt.

The Irish owner of Magners and Gaymers is using its buying power to drive distribution of Orchard Pig in the off and on-trades.

C&C's craft and premium portfolio grew volumes by 60% in the year ended 28 February 2017 and now accounts for 2% of own-brand volumes and 3% of own-brand revenues, according to its annual report.

"Our ambition is to grow this portfolio to 5% of group branded volumes over the medium term through in-house product development, new agency wins and partnering with local craft brewers," C&C said.

Orchard Pig is stocked in over 3,500 stores in the UK, including Waitrose, Sainsbury's and Majestic Wine. The business, which has retail sales of c.£10m, won new listings with Asda in May as the chain gave more space to craft lagers and ciders.