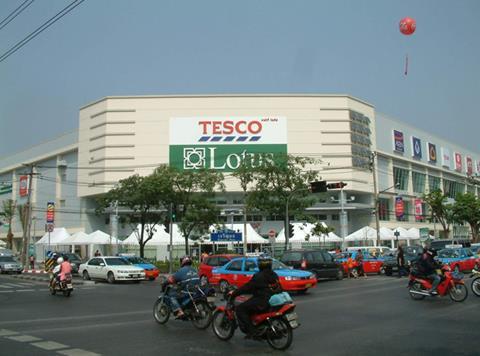 Tesco's (TSCO) long-shelved plans for global domination were further unwound this week with the sale of its Asian arm for £8bn, as it continues to refocus on its core business.
In what is likely to be one of Dave Lewis' last key strategic decisions at the helm, Tesco agreed to sell its Thailand and Malaysia business to CP Group for an enterprise value of $10.6bn (£8.2bn).
The sale, which is expected to complete in the second half of the year, was first mooted in December as part of the supermarket group's wider drive to retreat back toward its core domestic market.
Analysts welcomed the price, with Bernstein's Bruno Monteyne praising the "very strong valuation" and Shore Capital's Clive Black calling it "a good deal" despite losing the solid profit contribution from the business.
However, more eyebrows were raised over Tesco's plan to use the proceeds to "further de-risk the Tesco business" through a £2.5bn pension contribution and the return of £5bn to shareholders via a special dividend worth a hefty 21% of its current market capitalisation.
Black commented: "We do wonder if the group is missing an opportunity to make more of a process than event of the potential proceeds coming its way. Hence, we would have seen more merit in something more recurring once the transaction is definitively complete."
Monteyne, however, suggested the dividend further added weight to the investment case for the supermarket. "The impact of this, assuming it gets antitrust approval, is quite remarkable… The coronavirus outbreak won't stop people from eating: on the contrary, food-at-home will get a boost at the cost of food-out-of-home. This is the stock to own during those difficult times."
Share prices have been hammered over the past two weeks on fears over the impact of the spread of the coronavirus. However, Tesco's share price has outperformed the wider market. The FTSE 100 has plummeted by 28.2% since 24 February, while Tesco is down 15.5%. On the day the sale of its Asian arm was announced, Tesco ended the day flat at 240.5p, while the FTSE 100 slumped 7.7%.
Another company selling international assets this week to refocus on its core UK business was B&M European Value Retail (BME).
It sold its loss-making German arm Jawoll to a consortium of German investors for €12.5m (£10.9m). The deal consists of €2.5m payable on completion and €10m payable at the end of 2020, conditional on the ongoing trading of Jawoll. However, as part of the deal B&M will write off €5.6m of intra-group trading accounts balance and €43m of intercompany loans.
B&M shares have lost almost 30% of their value in 2020, with the recent coronavirus sell-off driving a 21.3% share price drop.
Shore Capital recently downgraded B&M on "uncertainty as to whether or not it is going to be subject to not only supply chain disruption, in terms of the free flow of products, but also the potential and costly adjustment to its supply base". It stated: "Until the stock market has visibility on such matters, we struggle to see how the B&M share can outperform the retail equity market."