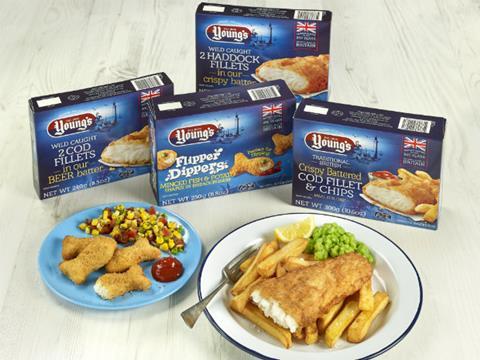 Top story
Karro Food Group, the pork processor owner by private equity investor CapVest, has agreed terms to buy UK seafood business Young's.
Young's will be integrated into Karro, which Capvest bought for £180m in March 2017, to create a new UK-based multi-protein food group.
The new group will have sales of circa £1.2bn and employ over 5,000 people across the UK and Ireland.
Karro and Young's will continue to operate as two separate businesses within the enlarged group.
Di Walker, current executive chair of Karro, has been appointed CEO of the wider group.
The agreement brings to an end a process kicked off more than a year ago when Young's was put up for sale by owners Lion Capital, Bain Capital and HPS Investment Partners in April 2018.
CapVest was understood to be close to agreeing terms late last year after emerging as the preferred bidder, but the acquisition stalled over the precise terms amid speculation the deal had collapsed.
Click here for the full story.
Morning update
Morrisons (MRW) has published first-half and full-year restated 2018/19 results on a post-IFRS 16 basis which affects the way assets, liabilities and the income statement are presented.
Morrisons said it was predominantly a freehold business, and it owned 86% of its stores, which meant the impact of the new lease accounting standard on profit was relatively low.
As previously announced, restated 2018/19 profit before tax and exceptionals was £10m lower under IFRS 16, falling from £406m to £396m (2.5%). This move comprised £103m lower rent, £58m higher depreciation and £55m higher finance costs, it said.
Operating profit before exceptionals increased by £45m, to £510m, and operating margin by 25 basis points, to 2.9%.
Morrisons said it would recognise lease liabilities of nearly £1.4bn and corresponding right-of-use assets of £745m on the balance sheet. The net result was restated net assets for 2018/19 of £4,325m – £306m lower than the previously reported position.
Morrisons will report the 2019/20 interims prepared under IFRS 16 on 12 September.
Elsewhere, BigDish, a food technology company that operates a yield management platform for restaurants, is shuffling its board.
Jonathan Morley-Kirk will move from non-executive director to non-executive chairman and Aidan Bishop, BigDish founder, will move from executive chairman to executive director.
This would enable Morley-Kirk to have greater oversight of various regulatory and compliance work and enable the company to make improvements in this part of the business, the company said.
BigDish has issued 11,044,697 shares as part of its salary sacrifice scheme and the conversion of debt into shares. All board members and some management have opted to receive no remuneration in cash since the initial public offering last August.
BigDish said this was because of their confidence in the future of the company and to ensure the interests of the board and management were completely aligned with shareholders.
The company will launch Brighton on its platform next week and it then expects to enter into a partnership with a UK technology platform, further details of which it would provide "in due course".
It has also launched a Brand Ambassador Program, using big-name personalities to influence customers.
San Naha, chief executive, said: ""Having worked previously at booking platforms such as TripAdvisor and Bookatable, I am aware of the importance of ensuring that every part of the business is built for scale.
"The recent focus on account management in our first two territories is very healthy for us at this stage. The summer period enables us to put our heads down and work hard on the 'non visible' aspects of the business. From September onwards, I expect BigDish to be firing on all cylinders across the whole country."
L'Oreal has confirmed it is in exclusive talks to buy the Mugler and Azzaro brands from The Clarins Group.
The acquisition will remain subject to consultation with employee representatives and the approval of the regulatory authorities. It should be completed in the course of 2019, L'Oreal said.
On the markets this morning, the FTSE 100 climbed 0.3% in early trading to 7,519.7pts.
Early risers include McBride (MCB), up 4.9% at 81.7p, PZ Cussons (PZC), up 1.7% at 215.5p, Ocado Group (OCDO), up 1.5% at 1,229p and DS Smith (SMDS), up 1.3% at 369.8p.
Fallers so far today include Premier Foods (PFD), off 1.5% at 33.5p, Imperial Brands (IMB), down 1.5% at 1,860p, Science in Sport (SIS), down 1.4% at 60.12p, PayPoint (PAY), down 1.3% at 930p and Majestic WINE (WINE), down 1.2% at 254p.
Yesterday in the City
The FTSE 100 closed up almost 1% at 7,497.5p.
Japan Tobacco International announced it had appointed Dean Gilfillan has managing director of its UK division.
He replaces Daniel Sciamma, who leaves the UK to lead the Russian market from JTI's Moscow office.
Gilfillan has more than 20 years' experience within the tobacco industry.
He joined JTI in 2014 as head of Kazakhstan, Central Asia and Mongolia. He spent the past three years the Russian market as general manager.
FTSE 100 fallers included Paypoint (PAY), down 2.9% at 942p, McBride (MCB), off 2.6% at 77.9p, Nichols (NICL), also down 2.6% at 1,675p, AG Barr (BAG) , down 1.8% at 910p and Associated British Foods (ABF), down 1.5% to 2.425p.
Stocks on the up included British American Tobacco (BATS), up 4.1% to 2,861.5p, Ocado Group (OCDO), up 3.7% to 1,210.5p, PureCircle (PURE), up 3.5% to 244.25p, Devro (DVO), up 3.4% to 214p and Imperial Brand (IMB), up 2.3% to 1,888.4p.