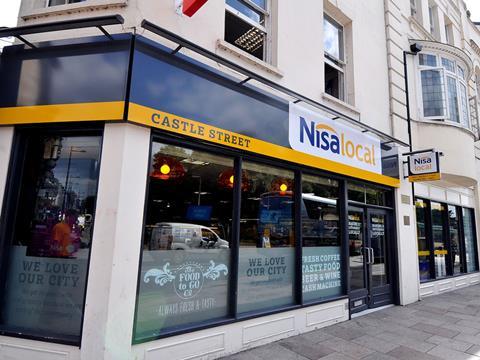 Top story
The Competition and Markets Authority (CMA) has ruled on the proposed £137.5m merger of The Co-operative Group with Nisa Retail, which it said did not give rise to competition concerns.
It ruled that The Co-op, as a groceries retailer and Nisa, as a groceries wholesaler, did not compete head-to-head.
However, the CMA said it had carefully considered the potential impact of the merger on competition between shops because Nisa supplies more than 4,000 grocery stores.
During the course of its 'Phase 1' investigation, the CMA considered that Nisa-supplied stores would still be free to set their own prices and decide which products to stock after the merger, and so the merged company would not be able to directly determine how they competed.
It also examined whether the merged entity could hike prices or cut service quality for retail or wholesale customers. It found that existing retail and wholesale competition made this unlikely.
This was because there were enough local alternatives to both Co-op and Nisa-supplied stores to ensure that people could still shop around to get the best value for them, the CMA said.
Nisa-supplied stores were also able to choose between several different wholesalers and would be able to switch supplier if prices were to increase or the quality of service go down.
This all meant that the merged company would be unlikely to be able to increase prices or offer a worse service to either stores or to shoppers.
Sheldon Mills, senior director of mergers at the CMA, said: "Millions of people throughout the UK shop at convenience stores and supermarkets, and it is vital that they continue to have enough choice to get the best value for them.
"After careful consideration, we've found that there is sufficient competition in both the wholesale and retail sectors to ensure that shoppers are not worse off.
"The merger will therefore not be referred for an in-depth investigation."
Jo Whitfield, chief executive, Co-op Retail, said: "We're delighted with the CMA decision and are really excited about sharing our plans for the future once we gain court sanction. Our strategy is to get closer to communities and our new business will create a strong product offer and improved prices for Nisa members that will engage their shoppers across the UK."
Nisa chairman Peter Hartley called the ruling "excellent news" and a significant step towards finalising the transaction that Nisa's members voted for last November.
"We are very excited about our future together, which will help ensure that our members are best placed to serve their communities."
Morning update
Ahold Delhaize (AD) has provided a share buyback update this morning, revealing it repurchased 2.4m shares between 16 April and April 20 at an average price of €19.16 per share for a total of €46m.
The repurchases were made as part of the €2bn share buyback program announced on November 8. The total number of shares repurchased under this program to date is 30.9m for €562.5m.
On the markets this morning, the FTSE 100 climbed 0.4% to 7,439.8pts in early trading.
Early risers include C&C Group (CCR), up 2.7% at €3.3, B&M European Value Retail (BME), up 0.6% at 399.3p, Diageo, (DGE), up 0.8% at 2,470.5p, Greene King (GNK), up 0.4% at 562.8p and TATE & Lyle (TATE) up 0.6% at 565.6p.
Fallers so far today include Kerry Group (KYGA), down 1% at €85.4, McBride (MCB), off 2.2% at 153.8p, Ocado Group (OCDO), down 1.2% at 525.2p.
Yesterday in the City
The FTSE 100 edged 0.4% higher at 7,398.8p.
Kimberly-Clark (KMB), owner of Kleenex, Huggies, Andrex and Pull-Ups, announced first-quarter net sales of $4.7bn, up 5% year on year. Changes in foreign currency exchange rates benefited sales by 3%. Organic sales rose 2%, including 3% growth in North American consumer products.
Operating profit came in at $247m compared with $848m last time. Results in 2018 included $577m of charges related to its 2018 global restructuring programme.
First-quarter 2018 adjusted operating profit was $824m – the results impacted by $175m of higher input costs, driven by a $105m increase in pulp and a $45 million increase in other raw materials.
Thomas Falk, chairman and chief executive, said he was encouraged by the 2% organic sales growth.
"We also generated $90m of cost savings, reduced discretionary spending and returned approximately $550m to shareholders through dividends and share repurchases."
While margins were impacted by significant commodity inflation, Kimberly-Clark was taking actions to increase net realised revenue and reduce costs to improve performance.
"We are broadly on track with our plan for the year and we remain optimistic about our opportunities to create long-term shareholder value through execution of our global business plan strategies," Falk said.
Elsewhere Real Good Food (RGD) confirmed it had completed the sale of Garrett Ingredients, its non-core trading business, to Kent Foods for £1.8m.
Market fallers included Compass Group (CPG), down 1.1% at 1,486p, Reckitt Benckiser Group (RB) continued its slide – off 2% at 5,511p, Stock Spirits Group (STCK) fell 1.7% to 255.5p and C&C Group (CCR) slipped 1.1% to €3.2.
Climbers included McBride (MCB), which jumped 4.4% to 162.4p, McColl's Retail Group, (MCLS), up 2% at 250p, PayPoint (PAY), up 2% at 815p, PureCircle (PURE), up 1.6% at 378.5p, Marks & Spencer (MKS), up 1.3% at 284.2p and DS Smith (SMD), up 1.5% at 515.6p.