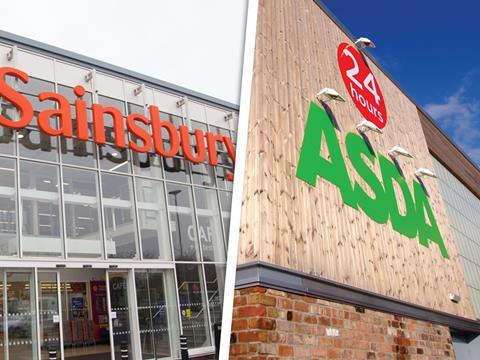 Top story
The UK Competition and Markets Authority has opened its investigation into the Sainsbury's (SBRY)/Asda retail mega-deal, asking interested parties to submit their initial views by 4 June.
The CMA said in a statement this morning it has issued a preliminary invitation to comment, in which interested parties will be asked for comment on the impact the proposed merger.
The takeover watchdog is seeking comment from market players with "valuable insights or evidence that could assist the CMA's investigation, such as suppliers, competitors, industry bodies and consumer organisations".
"The CMA is keen to ensure that all interested parties have the opportunity to make their views known and present all relevant evidence to the CMA," it stated.
All interested parties have been requested to submit their comments by 5pm on Monday 4 June.
The CMA said it is likely to also sound out a consumer survey (to engage directly with the customers) and by a series of hearings and roundtable meetings with interested third parties.
The Sainsbury's/Asda merger – worth around £15bn – will create the UK's largest retailer and see the UK traditional big four become a two-way market share battle with Tesco with Morrisons a distant fourth.
Morning update
KP Snacks owner Intersnack has struck a cut-price deal to buy Tyrrells and attempt to restore the brand to growth after a "phenomenal reduction in performance" under US ownership.
The Hershey Company put Tyrrells up for sale earlier this year after buying its owner Amplify Snack Brands in December 2017.
Amplify itself had bought Tyrrells from Investcorp for £300m in the summer of 2016, but the formerly fast-growing brand struggled under its ownership and was loss-making at the time of the wider Hershey deal.
The Grocer understands Hershey was in talks around a cut-price £100m sales, but City sources suggested the price had dropped further during negotiations to as low as £60m as bids reflected what one City source calls a "phenomenal reduction in performance" since the Amplify sale.
One well placed source suggested the final agreement with Intersnack was worth $140m, which would translate at £104m, but still represents a 65% loss in value of the asset over less than two years.
One dealmaker said even a figure of £60m would still represent "a very full price" given Tyrrells' collapse in profitability.
Click here for the full story.
This week's edition of The Grocer also has the story that C&C Group (CCR) will separate the Matthew Clark and Bibendum wholesale businesses it bought from collapsed Conviviality, but does not intend to sell off Bibendum as market rumours had suggested.
Also, double-digit growth continues at Fast 50 constituents pet food supplier MPM Products and Burts Potato Chips.
Check thegrocer.co.uk this morning for full details.
On the markets this morning, the FTSE 100 has edged back from record highs, slipping back 0.1% to 7,777.1p.
Ocado (OCD) is amongst the largest fallers this morning, but has largely held yesterday's gains dropping 1.8% to 782.8p in early trading. Also down are WH Smith (SMWH), down 1.3% to 2,002p, Martons (MARS), down 2.5% to 98.9p and Premier Foods (PFD), down 1.4% to 37.2p.
Risers include Nichols (NICL), up 1.8% to 1,550p, SSP Group (SSPG), up 1.3% to 635.6p and Fever-Tree (FEVR), up 1.1% to 2,788p.
Yesterday in the City
The main story in the City yesterday was the extraordinary share price surge of Ocado (OCDO) after news emerged it had struck a partnership with US grocery giant Kroger.
Ocado's shares surged to as high as 1,000p in morning trading – almost double its opening share price – before settling back down to a still stellar 44.4% rise to 797.2p.
It was good news all round yesterday as the FTSE 100 jumped to a record closing high of 7,788pts after rising 0.7% on rising oil prices and the strong dollar against the pound.
Other major grocery companies on the rise included Marks & Spencer (MKS), up 3.2% to 297.3p, Reckitt Benckiser (RB), up 1.4% to 5,903p, Compass Group (CPG), up 1.4% to 1,573p, WH Smith (SMWH), up 1.3% to 2,028p and Associated British Foods (ABF), up 1.2% to 2,737p.
Mothercare surged 24.4% to 26.5p after details of its restructuring plan were revealed along with the return of its former CEO.
Fever-Tree dropped 5.7% back to 2,757p on the lack of earnings upgrades in a trading statement before its AGM yesterday.
Fallers included SSP Group (SSPG), which came back down to earth after rising on Wednesday, dropping 3.1% to 627.2p.
Other fallers included Stock Sprits Group (STCK), down 3.5% to 247p, PureCircle (PURE), down 2.9% to 346.5p, Hilton Food Group (HFG), down 2.6% to 906p, Nichols (NICL), down 2.1% to 1,522p and AG Barr (BAG), down 2.1% to 666p.
Greencore (GNC) fell 1.3% to 155.75p and Coca-Cola HBC (CCH), fell 0.9% to 2,574p.