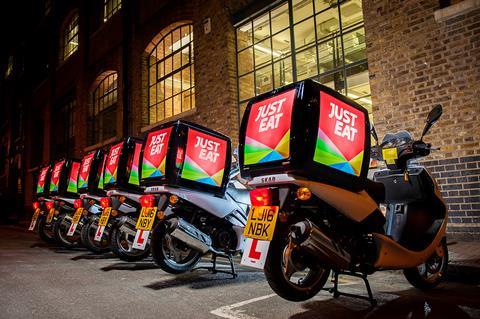 Top story
The UK Competition and Markets Authority has thrown a spanner into the merger of Just Eat (JE) and Takeaway.com by announcing it has opened an investigation into the deal just as it was poised to complete.
Just Eat and Takeaway.com had been scheduled to complete within days, but Just Eat said last night that it had learned the CMA "has reconsidered its position regarding the Just Eat Takeaway.com transaction and now believes that a merger investigation is warranted".
It said the CMA intends "unexpectedly" to conduct a targeted investigation focussed on assessing whether Takeaway.com would (absent the Just Eat transaction) have re-entered the UK market.
Takeaway.com confirmed that it did not have the intention to re-enter the UK market absent the transaction with Just Eat.
"Takeaway.com and its advisers will work with the CMA to respond to any questions it may have and is confident that merger clearance will be obtained," the statement said.
This morning the CMA announced the opening of its investigation into whether the merger could "result in a substantial lessening of competition within any market or markets in the United Kingdom for goods or services".
The CMA has invited comments on the transaction from any interested party, with a deadline of 6 February.
The investigation has caused a one week delay in the merger timetable, with Just Eat to become Just Eat Takeaway.com on 31 January.
However, the companies will be unable to commence any formal integration while the investigation is ongoing.
Cat Rock Capital Management – a major shareholder of both Just Eat and Takeaway.com – has registered its dismay at the CMA's actions.
Founder and managing partner of Cat Rock Alex Captain commented: ""It is shocking that the CMA would investigate the Just Eat merger with Takeaway.com.
"The CMA's investigation seems to draw a false equivalence between Takeaway.com's merger with Just Eat and Amazon's investment in Deliveroo. Amazon has a large UK business with millions of customers that it could leverage to re-enter the UK online food delivery market and increase competition. Takeaway.com has no such UK presence, customer base, or brand name. It is patently absurd to compare Takeaway.com with Amazon when evaluating the outlook for future competition.
"The combined company will have the resources to invest in competing against dominant global technology companies in the online food delivery space like Uber and Amazon. Any action the CMA takes to block this merger would only impair a UK-based company's ability to effectively compete against these dominant platforms."
Morning update
Pub and brewing group Marston's (MARS) has issued a trading statement for the 16 weeks to 18 January ahead of its AGM held later this morning.
Total managed and franchise pub like-for-like sales growth for the period increased 1% in the period, reflecting continued growth in drinks sales offset by weaker food sales. Trading over the Christmas fortnight was strong, with like-for-like sales growth of 4.5%, compensating for more subdued trading in the first three weeks of December as a consequence of poor weather.
Costs have generally been in line with expectations. However, the recently announced 6.2% increase in the National Minimum Wage from April is higher than anticipated, and will increase second half year costs by a further £2m-£3m.
Its brewing arm reported volumes slightly behind last year reflecting a weaker performance in the off-trade in December, particularly with lager sales. Excluding lager, volumes are in line with last year.
Given the margin profile of the Off-Trade, despite the volume decline, earnings are in line with management expectations.
Marston's is targeting debt reduction of £200m by 2023 and is looking to achieve this aim "as quickly as possible" through pub disposals.
In the year to date, it has completed or exchanged on £60m. Having originally targeted £40m disposal proceeds, it has now increased the target to £85m-90m.
CEO Ralph Findlay commented: "Marston's has delivered a creditable performance in a challenging market. Trading in the key Christmas fortnight was good and has remained solid since which is encouraging. Our balanced pub portfolio enables us to perform well in the context of current market dynamics and our market-leading Beer Company has continued to increase market share in both the on and the off trade in the period. We are making excellent progress on our debt reduction strategy, well ahead of the original 2023 target.
"Looking forward, greater clarity on the political agenda should positively impact consumer confidence. Overall the economic environment for the consumer looks encouraging with low unemployment and healthy wage growth providing us with increasing confidence that the market will grow in 2020."
French hypermarket operator Carrefour last night posted "solid" four quarter growth.
Sales including VAT were up 3.1% on a like for like basis in the period, driven by a return to growth in Spain (+1.2% like for like) and accelerating momentum in Brazil (+7.6% LfL).
However, the business continued to decline in its core home market of France, with a number of strikes in the country affecting trading and sending like for like sales down 0.9%.
Hypermarket sales were down 3.4% in the period reflecting the deterioration in the consumer environment at year-end and the weight of investments in competitiveness
However, overall food sales were up 0.4% on a like for like basis, with supermarkets up 2.2% and convenience up 3.2%.
It also posted growth of more than 30% in food e-commerce sales to €1.3bn in the quarter.
Full-year 2019 reported recurring operating income is expected at about €2,090m, which represents an increase of €145m (7.4%) at constant exchange rates.
Alexandre Bompard, chairman and CEO, said: "The year 2019 marks an important milestone for our group. Carrefour posted solid and profitable growth. Our transformation plan is bearing fruit. The numerous initiatives on the food transition, e-commerce and competitiveness are perceived positively by our customers and confirm the relevance of our omnichannel model.
"The group is entering the next stage of the plan with confidence, with more robust fundamentals to extend the virtuous dynamic underway, combining customer satisfaction and sales growth."
On the markets this morning, the FTSE 100 has surged 1.4% to 7,616pts after this week's losses.
Early grocery and consumer risers include Morrisons (MRW), up 2.3% to 186.3p, Naked Wines (WINE), up 1.9% to 220p, Premier Foods (PFD), up 1.8% to 37.9p and Tesco (TSCO), up 1.6% to 246.8p.
Fallers so far today include Marston's, down 5.9% to 110.3p after this morning's trading update, Hotel Chocolat (HOTC), down a further 3.1% to 397.5p on yesterday's trading announcement and Just Eat (JE), down 3.1% to 853.8p on the CMA intervention.
Yesterday in the City
The FTSE 100 fell back 0.9% yesterday to 7,507.7pts as losses in Asia flowed through to global stocks.
Hotel Chocolat (HOTC) dropped 4.1% yesterday to 410p despite the premium chocolatier and retailer reporting a sales rise of 14% in the 26 weeks to December 29 compared to the prior year. The shares were down on the company's warning that its international expansion plans would warns hit profit growth.
PayPoint fell 2.7% to 1,016p after it announced sales rose 4.2% to reach £32.7m in the three months to 31 December 2019 due to a "resilient" bill payment business and growth in parcel volumes.
Other fallers included McBride (MCB), down 7.2% to 63p, Nichols (NICL), down 5.5% to 1,322.5p, FeverTree (FEVR), down another 3.9% after its tough week to 1,566.5p, Ocado (OCDO), down 3% to 1,292p and Bakkavor, down 2.9% to 135.2p.
The day's few risers included Science in Sport (SIS), up 9% to 48.5p, Finsbury Food Group (FIF), up 2.1% to 98p, Cake Box (CAKE), up 2.1% to 173.5p, McColl's (MCLS), up 1.5% to 46.8p and Greencore (GNC), up 1% to 247.8p.