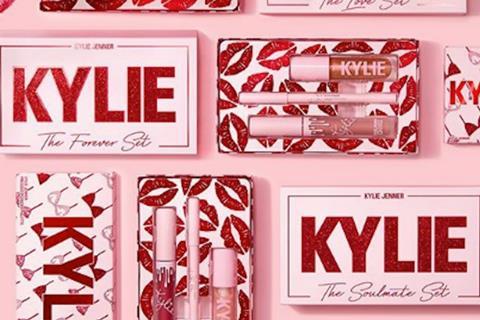 Top story
Consumer beauty giant Coty has taken a majority stake in the beauty business of celebrity Kylie Jenner for $600m.
Coty said its purchase of a 51% stake in the cosmetics and skin care business would help develop the company into a "global powerhouse brand".
It stated: "Coty and Kylie will set and lead the strategic direction of the partnership, focusing on global expansion and entry into new beauty categories.
"Kylie and her team will continue to lead all creative efforts in terms of product and communications initiatives, building on her unrivalled global reach capabilities through social media."
Jenner has over 270 million followers across her personal and brand social media channels, with her Kylie Cosmetics and Kylie Skin two of the fastest-growing and most-engaged beauty brands on social media.
Coty expects the transaction will be accretive to the net revenue growth of its core fragrance, cosmetics and skin care portfolio by more than 1% per year over the next three years.
The transaction is expected to be neutral to Coty's bottom line in year one, and accretive thereafter.
The acquisition is expected to close in the third quarter of fiscal year 2020. All beauty categories within the new partnership will continue to be sold through leading luxury beauty retailers as well as owned digital channels.
Coty said the transaction also represents a "key milestone" in its "ongoing transformation into a more focused and agile company".
Coty will have overall responsibility for the portfolio's development. In addition to its responsibilities within the partnership, Coty will act as a licensee for skincare, fragrances, and nail products.
Coty CEO Pierre Laubies commented: "We are pleased to welcome Kylie into our organization and family. Combining Kylie's creative vision and unparalleled consumer interest with Coty's expertise and leadership in prestige beauty products is an exciting next step in our transformation and will leverage our core strengths around fragrances, cosmetics and skincare, allowing Kylie's brands to reach their full potential."
Kylie Jenner said: "I'm excited to partner with Coty to continue to reach even more fans of Kylie Cosmetics and Kylie Skin around the world. I look forward to continuing the creativity and ingenuity for each collection that consumers have come to expect and engaging with my fans across social media. This partnership will allow me and my team to stay focused on the creation and development of each product while building the brand into an international beauty powerhouse."
Coty shares were up 2.6% in the US to $12.22 yesterday on the news.
Morning update
French retail giant Groupe Casino has agreed a new €2bn revolving credit facility with 21 French and international banks as part of its refinancing plan.
The facility, which has a maturity date of October 2023, includes two financial covenants, which will be tested on a quarterly basis (and for the first time on 31 March 2020).
It will be dependent on a ratio of adjusted gross debt to EBITDA (the level of which varies over time) and a ratio of EBITDA to financial expenses that needs to be higher than 2.25x.
The amount of the existing Casino and Monoprix revolving syndicated facilities (currently €2.25bn), maturing in 2021 and 2022, will be reduced by the amounts extended into the new revolving credit facility. The existing Casino and Monoprix bilateral lines, for a total amount of €0.64bn, will be fully repaid and cancelled.
Elsewhere, Ahold Delhaize has updated the market on the progress of its €1bn share buyback plan.
The group has repurchased 877,616 of Ahold Delhaize common shares in the period from 11 November 2019 up to and including 15 November 2019 at an average price of €24.17 per share for a total consideration of €21.2m.
The total number of shares repurchased under this program to date is 42,136,097 common shares for a total consideration of €918m.
On the markets this morning, the FTSE 100 has started the day up 0.6% to 7,347.6pts.
Early risers include Naked Wines (WINE), up 2.9% to 267.5p, PayPoint, up 2.1% to 946p and Bakkavor, up 1.6% to 130.8p.
Fallers so far this morning include Hilton Foods Group (HFG), down 1% to 1,000p, PZ Cussons (PZC), down 0.8% to 199.8p and Tate & Lyle (TATE), down 0.5% to 703.8p.
Yesterday in the City
The FTSE 100 started the week edging up 0.1% to 7,307.7pts.
A number of grocery retail names started the week on the front foot, including Sainsbury's (SBRY), which was up 2.3% to 209.6p, while Marks & Spencer (MKS) rose 2.2% to 181.5p and Morrisons (MRW) was up 1.5% to 199.3p.
Other retail gainers yesterday included B&M European Value Retail (BME), up 2.3% to 386.6p, McColl's (MCLS), up 2.3% to 45.5p and Ocado (OCDO), up 1% to 1,164p.
Amongst the day's biggest risers were AG Barr (BAG), up 4% to 605p, FeverTree (FEVR), up 3.3% to 1,907p, Stock Spirits Group (STCK), up 2.5% to 200p and Domino's Pizza Group, up 1.9% to 295.6p.
Yesterday's fallers included DS Smith (SMDS), down 1.3% to 382.9p, Glanbia (GLB), down 1.3% to €11.30, Coca-Cola HBC (CCH), down 0.9% to 2,454p, Tate & Lyle (TATE), down 0.8% to 70-7.4p and Cake Box (CAKE), down 0.7% to 141.5p.