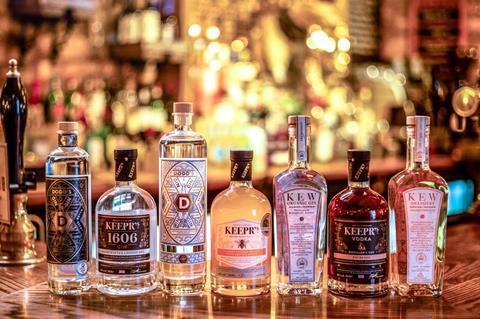 Top story
AIM-listed drinks producer Distil has entered a joint venture with British Honey Company to produce a new range of branded botanical spirits.
Under the terms of the Agreement both parties are contributing an initial cash sum of £30,000 each toward jointly producing and marketing the new range.
All Intellectual Property Rights in newly created brands and recipes will be jointly owned by Distil and BHC and future revenues will be shared equally by both parties. Distil's collaboration with BHC will enable both parties to leverage their complementary competencies to accelerate product innovation which will benefit both the joint venture and their broader businesses.
Under the JV, they will "create new brands, liquids and formats to increase participation in this growth sector".
In addition to the joint venture, the broader collaboration will provide Distil with access to BHC's distillery and international award-winning Master Distiller to ramp up innovation within the Distil brand portfolio and produce high quality liquids that meet consumer and customer trends.
Distil will also assist BHC with the marketing and distribution of BHC's own brands and provide greater consumer and trade insight, utilising its proven product development, marketing and commercial experience.
Initial new brand development work under the joint venture will commence immediately and as a result it is expected Distil will incur additional unbudgeted costs in the current financial year.
Consequently, management expect full year profit out-turn for the current financial year to be ahead of prior year but marginally below current market expectations.
Don Goulding, executive chairman of Distil, commented: "I am very pleased to partner with BHC to facilitate an accelerated innovation agenda and more nimble product development capability.
"The joint venture will facilitate the creation and marketing of exciting new products and will improve Distil's capability to develop and refresh its own brand portfolio. This new collaboration brings together complementary capabilities which will benefit both companies and we look forward to communicating our progress in the coming months."
Morning update
Supermarket Income REIT has bought a Sainsbury's store in Hessle from Reassure Limited for £34m, reflecting a net initial yield of 5.5%.
The supermarket comprises 50,000 square feet net sales area with a 12-pump petrol filling station and 584 parking spaces. The store has purpose-built online fulfilment docks and supports Sainsbury's online grocery fulfilment for the surrounding area. It is being acquired with an unexpired lease term of 14 years with annual, upward-only, RPI-linked rent reviews (subject to a cap and floor).
Originally developed in the early 1980s, the 13-acre site which was substantially refurbished in 2011.
Included in the purchase price is an adjoining Homebase store comprising 21,000 square feet net sales area with an unexpired lease term of four years. Sainsbury's guarantee the Homebase rent for the duration of the lease.
Consequently, the combined total net initial yield on this purchase of the Sainsbury's in Hessle, including the rental income from the Homebase, will be 6.3%.
Ben Green, Director of Atrato Capital, the investment advisor to Supermarket Income REIT, said:
"This Sainsbury's superstore is ideally located for both online and offline grocery sales and adds to Supermarket Income REIT's growing portfolio of omnichannel stores."
Stevia producer PureCircle has announced it has secured approval from its lenders to provide further liquidity of $8.6m into the business.
The agreement provides for full waiver of all previous defaults and secures the additional liquidity from shareholders by way of an unsecured subordinated loan.
Group CFP Jimmy Lim commented: "This agreement and additional liquidity is a significant step forward for PureCircle as we move to resolve the issues which came to light during 2019. We would like to thank our lenders for their ongoing support."
National Milk Records, the listed supplier of management information to the UK dairy supply chain, has announced an 8.6% drop in half year revenues back to £10.7m.
Previously disclosed one-off events and seasonal activity in 2018 accounted for 59% of this drop in turnover. A cyber-attack reported on 13 September interrupted services in the first half, the company said.
Profit on ordinary activities, before taxation, fell to £0.4m from 1.1m, while EBITDA dropped to £0.6m from £1.3m.
MD Andy Warne commented: "We are pleased to report that despite an interruption to our services following the previously reported cyber-attack, NMR has emerged stronger having protected our revenue streams and substantially reinforced our cyber protection and restoration capability. We are particularly pleased to note that revenues from our Disease Testing services have grown by 4% year on year as we pursue our strategy of focusing on our core customers and greater penetration of our milk testing services.
"We are also pleased that we have continued our accelerated investment programme having invested significantly in the first half of the year in both laboratory equipment and digital transformation. We also paid another dividend in the first half of the 2020 financial year.
"During the second half of FY20 we expect to trade broadly in line with our prevailing growth expectations for this period, albeit some initiatives having been delayed by the cyber-attack. Taken together, this updates our previous guidance."
"With regards to the British Dairy industry, calendar year 2019 saw the highest level of milk produced in Great Britain for 27 years. There is some consequent downward pressure on milk prices which may reduce milk volumes to a small extent, however we remain positive that the UK dairy market offers strong opportunities and look forward to a successful second half of the year and beyond."
On the markets this morning, the FTSE 100 has recovered 0.8% to 7,443.4pts.
Early risers include Ocado (OCDO), up 2.1% to 1,154p, Glanbia (GLB), up 1.4% to €10.21, and FeverTree (FEVR), up 1.1% to 1,445.5p.
Fallers so far today include Bakkavor, down 1.4% to 136.8p, Stock Spirits (STCK), down 1.1% to 217.5p and Pets and Home, down 0.5% to 307.4p.
Yesterday in the City
The FTSE 100 ended the day down 0.7% to 7,382pts yesterday as global markets continue to struggle.
Kerry Group jumped 4.5% to €122.30 after posting a double-digit rise in annual profits on the back of strong volume growth and the of acquisitions.
There were few other notable risers on the day, with Wynnstay Group up 2.5% to 264p, FeverTree (FEVR), up 2.2% to 1,430p, Reckitt Benckiser (RB), up 1.2% to 6,400p, Naked Wines (WINE), up 1.2% to 218p and McBride (MCB), up 1.1% to 67.1p.
Yesterday's FTSE 100 fallers included Ocado (OCDO), down 2.6% to 1,130.5p, DS Smith (SMDS), down 2.6% to 349.2p, Associated British Foods (ABF), down 2.3% to 2,611p and Morrisons (MRW), down 1.1% to 181.4p.
Other fallers included CARR's Group, down 3.2% to 152p, McColl's (MCLS), down 1.9% to 43.5p, Marks & Spencer (MKS), down 1.6% to 180.9p, WH Smith (SMWH), down 1.3% to 2,384p, Devro (DVO), down 1.2% to 164p and Hotel Chocolat (HOTC), down 1.1% to 432.5p.