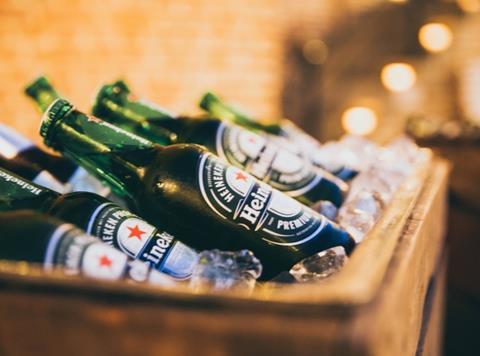 Top story
Heineken has struck a partnership deal with China Resources that will see it acquire a 40% shareholding in the company controlling Chinese beer market leader CR Beer.
As part of the strategic partnership, Heineken's existing China operations will be combined with CR Beer's operations and Heineken will license the Heineken brand in China to CR Beer on a long-term basis.
Heineken said China's beer market is the world's largest beer market by volume and the second largest premium beer market globally, though it is forecast to be the biggest contributor to premium volume growth in the next five years driven by its rapidly growing middle class.
It added that profitability of the Chinese beer market is expected to improve significantly, driven by premiumisation, demand for international beer brands and cost optimisation.
A statement this morning said: "The combination of Heineken and CR Beer in China is highly complementary. CR Beer has a best-in-class route to market (RTM) network, a wide brewery footprint and a deep understanding of the Chinese market. Heineken has proven premium brand building capabilities and a world-class international brand portfolio, led by the iconic Heineken brand for which it has built strong equity over the years in China."
The partnership will enable CRE to advance its premiumisation strategy and it will help Heineken to significantly expand availability of the Heineken brand in China to fully leverage the brand's potential.
Heineken and CR Beer will also investigate which other premium brands from Heineken 's portfolio can be licensed to CR Beer in China as well as whether the Dutch brewer's global presence and marketing capabilities can be leveraged to support and accelerate the international growth of CR Beer's Snow brand and its other Chinese brands to become the Chinese beers of choice.
Heineken CEO Jean-François van Boxmeer said: "We very much look forward to joining forces with CRE and CR Beer, the undisputed market leader in China. We believe that our strong Heineken brand and marketing capabilities, combined with CR Beer's deep understanding of the local market, its scale and best-in-class distribution network will create a winning combination in the growing premium beer segment in China."
Chen Lang, Chairman of CRE, said: "We are very excited about this partnership and see immense potential in the combined strengths of CR Beer and Heineken. With Heineken's long heritage and world-class iconic brand portfolio, along with our leading presence and deep understanding of China, we believe we can win together in this new era of the Chinese beer market, in which the premium segment will become increasingly important.
"In Heineken we have found the perfect partner to achieve our ambitions in China and - as an international partner - to support us in growing our business outside China."
Heineken will acquire a shareholding of 40% in CBL, which holds a controlling interest of 51.67% in CR Beer, a company listed on the Hong Kong stock exchange.
Post completion of the transaction, Heineken will have an effective 20.67% economic interest in CR Beer.
Heineken will invest a total amount of HK$24.3 billion in CBL, which translates into an implied purchase price of HK$36.31 per share in CR Beer.
Meanwhile, CRE will acquire 5.2 million Heineken N.V. shares (equivalent to a 0.9% shareholding in Heineken N.V.) which are currently held in treasury for a total consideration of €464m or €88.66 per share.
Heineken will contribute its operating entities in China, including three breweries, into CR Beer for a total consideration of HK$2.4 billion, through a share sale transaction.
Combined, these transactions will result in a net investment of €1.95bn by Heineken.
Morning update
Global pharmacy giant Walgreens Boots Alliance is understood to have hired Spayne Lindsay to manage a sale of its sports nutrition businesses PhD Nutrition and The Protein Works.
The pharmacy giant bought both brands via its short-lived B&B Investments venture capital arm, with PhD acquired in late 2014 and The Protein Works a year later. B&B Investments has since been wound down and it is understood WBA has taken the decision to exit the assets it sees as "non-core".
It is understood PhD sales have grown to around £21m and The Protein Works to around £12m in the current year.
An IM for the brands has been sent out and the sales process will kick off in earnest in the autumn.
City sources suggested likely buyers included mid-market UK private equity firms and trade players active in the sports nutrition space such as Samworth, Associated British Foods and Kerry Group. German group Kruger is also a likely contender, having bought rival Maximuscle and smoothie powder company Shrewd in the past year.
WBA declined to comment, as did Spayne Lindsay.
Retailers and pet car business Pets at Home Group has released a trading update for the 16 weeks to 19 July.
It shows an 8.1% rise in group revenues to £277.4m, with retail revenue growth of 6.9% to £245m and online revenue up 47.3% to £19.1m.
Retail like-for-like revenyes growth was 5.3% in the period.
Overall group like-for-like revenues, including an 18.4% rise in vet group revenues, rose 6.1%.
However, Pets at Home warned that gross margin dilution guidance for the full year remains unchanged, as it expects a reduction of 75-125bps. It said margin dilution will be greater in the first half, reflecting price investment phasing.
It also revealed it has decided not to proceed with the opening of two stores for which lease arrangements had been committed. The full cost of the leases, at £1.6m, will be absorbed within underlying profit in the first half.
On the markets this morning, the FTSE 100 has recovered 0.4% back to 7,609.5pts so far.
Heineken shares have opened up 1.6% to €88.22 on the news of its China partnership. Pets at Home has jumped 8.2% to 122.4p.
Other risers include Stock Spirits (STCK), up 3.2% to 223p, McBride (MCB), up 2% to 139.8p and DS Smith (SMDS), up 1.4% to 498.5p.
Fallers so far include Devro (DVO), down 1.2% to 195.8p, Mitchells & Butlers (MAB), down 1.1% to 238.8p and AG Barr (BAG), down 0.7% to 679p.
Yesterday in the City
The FTSE 100 continued its tough week, falling 1% down to 7,575.9pts yesterday as US President Trump's threats of trade tariffs on China continues to dog global markets.
The fall in UK stocks came despite the pound hitting a 10-month low following the Bank of England's decision to raise interest rates by 0.25 percentage points to 0.75%.
The day's few grocery risers included Majestic Wine (WINE), up 2.6% to 472p, Just Eat (JE), up 1.6% to 787.2p and McBride (MCB), up 1.3% to 137p.
Pub and brewing groups had a difficult day, with Mitchells & Butlers down 6.2% to 241.4p after posting a weaker than expected rise in third quarter sales, Greene King (GNK) down 5% to 484.7p and Marston's (MARS) falling 1.8% to 91.9p.
Other fallers included Nichols (MICL), down 2.9% to 1,415p, McColl's (MCLS), down 2.5% to 146.5p, Marks & Spencer (MKS), down 2% to 292.3p.
Ocado (OCDO) was down 1.3% yesterday to 1,091p while Greggs (GRG) fell 1.2% to 1,019p.
Pets at Home fell 3.1% head of its first quarter trading update this morning.