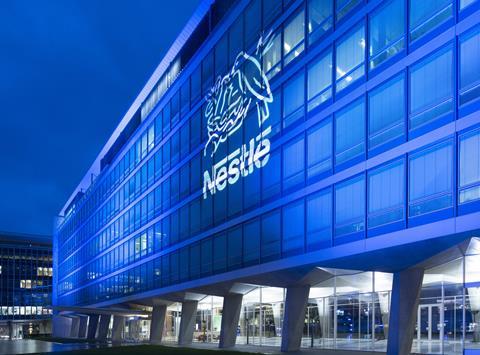 Top story
Nestlé has agreed to sell its CHF700m (£575m) China-based Yinlu peanut milk and canned rice porridge businesses to Food Wise Co for an undisclosed sum.
The deal covers all of Yinlu's operations, including its five factories in Fujian, Anhui, Hubei, Shandong and Sichuan.
Yinlu brands had sales of CHF 700m in 2019 and Nestlé said Food Wise Co, a company controlled by the family of Yinlu founder Chen Qingshui, is "well-positioned to enable a smooth transition and ensure the long-term success of that business".
Both parties have agreed not to disclose the financial terms of the transaction.
The transaction allows Nestlé to focus on key categories in China: infant nutrition, confectionery, coffee, culinary, dairy and petcare, to "capitalise on the company's strong brands, digital capabilities and innovation engine to drive growth".
As part of the transaction, Nestlé will retain its ready-to-drink Nescafé coffee business and distribute the products across most of the Greater China Region. Nestlé said the Nescafé brand remains a strategic growth driver and the company continues to invest to further strengthen the brand across all channels in the market.
The entire Nescafé business in China will be managed by one team, using synergies and strengthening capabilities that will help drive further growth in the business.
Yinlu will continue to manufacture the Nescafé RTD products for Nestlé and will distribute the products in several provinces. Yinlu will continue to manufacture and sell Nestea products under license from Nestlé.
Nestlé is stressed it remains fully committed to the Greater China Region, which offers significant growth opportunities. The Greater China Region is the second largest Nestlé market globally with sales of nearly CHF7bn in 2019, while Nestlé has invested about CHF 800m there during the last five years.
The transaction is expected to close by the end of this year.
Morning update
The FTSE 100 has edged up a further 0.3% to 6,452.8pts so far this morning.
Risers so far include McColl's Retail Group, up 8.2% to 29p, Stock Spirits, up 3.2% to 239p, Bakkavor, up 2% to 80.6p and SSP Group, up 1.9% to 363.8p.
Fallers this morning include Science in Sport, down 1.5% to 30.1p, Pets at Home, down 1.6% to 414.4p and WH Smith, down 1.6% to 1480.3p.
Yesterday in the City
The FTSE 100 ended the day up 1.6% to 6,432.1pts to close in on the market's highest level since the coronavirus crisis hit.
Greencore ended the day up 4.4% to 124p after falling to an annual loss, but posting better fourth quarter and current lockdown sales numbers than the market had feared.
Catering giant Compass Group was up 2.5% to 1,377p despite profits plunging more than 80% at as the coronavirus pandemic slammed the foodservice industry.
Cranswick edged up 0.3% to 3,710p after reporting "exceptionally" robust demand across all categories as lockdown restrictions helped boost revenues 21% in its first half.
Pet at Home was up 0.5% to 421p as first half group revenues increased 5.1% as pet owners stocked up on products during the pandemic.
The day's risers included SSP Group, jumping 13.6% to 357p, McColl's Retail Group, up 12.4% to 26.8p, Associated British Foods, up 5.4% to 2,128p, Applegreen, up 4.4% to 334p, Greggs, up 4.1% to 1,845p, Marks & Spencer, up 3.9% to 140.3p and Finsbury Food Group, up 3.7% to 76.4p.
The day's fallers included Ocado, down 4.5% t 2,143p, Reckitt Benckiser, down3.7% to 6,310p, B&M European Value Retail, down 3.5% to 468p, Science in Sport, down 1.6% to 30.5p and Just Eat Takeaway.com, down 1.5% to 7,680p.