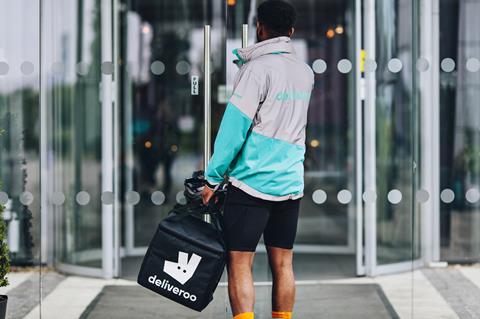 The Competition & Markets Authority has cleared Amazon's 16% investment in Deliveroo, ending a 15-month investigation into the deal.
The clearance comes with a significant caveat, however, with CMA inquiry chair Stuart McIntosh warning that an increase in Amazon's stake "could trigger a further investigation".
The long-running decision saga has seen the authority flip-flop between allowing the deal to proceed and halting it.
Initially the CMA determined there was a "realistic prospect" the transaction could harm competition by discouraging Amazon from re-entering the online restaurant food market and further developing its presence in the online convenience grocery delivery.
At the next stage of the inquiry, Deliveroo argued that the impact of the coronavirus pandemic on its business would cause it to "fail financially" without Amazon's support. The CMA at that point said Deliveroo met the criteria for a 'failing firm' and that its exit from the market would have been worse for competition than allowing the investment to proceed, provisionally clearing the deal on that basis.
Then, after reviewing Deliveroo's finances from April 2020 onwards, the CMA said it had become apparent the restaurant food delivery market had recovered "much more sharply than had been expected".
The failing firm argument no longer appropriate, the CMA reassessed whether the transaction would harm competition. This stage of the process saw the likes of Just Eat Takeaway.com and Domino's Pizza strongly oppose the deal.
"Today's final decision is the result of a thorough examination of this deal and the markets in which Amazon and Deliveroo operate," said McIntosh.
"The group has concluded that the transaction will not result in a substantial lessening of competition in either restaurant delivery or convenience grocery delivery. Our decision reflects the scale of Amazon's investment in Deliveroo – 16% of the company's equity – and its incentives to compete in both markets," he added.
The decision comes just days after Amazon announced a major ramping up of its UK grocery business, making Amazon Fresh grocery delivery free to Prime members, with order fulfilment available within the hour in select areas. Meanwhile, Deliveroo today announced it had grown its global restaurant partner base to around 100,000.
"This is fantastic news for UK customers and restaurants, and for the British economy," a Deliveroo spokeswoman told The Grocer. "British-born Deliveroo will use the investment to increase choice and value for customers, support for restaurants and will be able to offer more riders the flexible work they value as the company expands.
"Deliveroo is excited that Amazon, the most customer-obsessed and innovative company in the world, has shown such a huge vote of confidence in Deliveroo and chosen to invest in the company's future," she added.