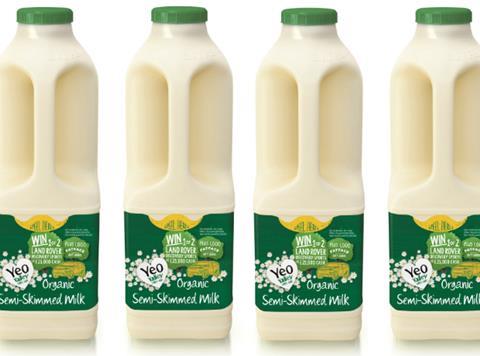 The Competition and Markets Authority has officially launched an investigation into the proposed multi-million pound tie-up between Arla Foods and Yeo Valley.

The watchdog announced the start of its long-awaited merger inquiry today (17 May), giving stakeholders an opportunity to comment until 1 June.

The CMA said it was considering whether the merger - which will see Arla take over the Yeo Valley Dairies business - would "result in a substantial lessening of competition" across the dairy sector.

The proposed deal was first announced in February, and would see Arla acquire the licence for Yeo Valley's milk, cheese and spreads division as it seeks to cash in on growing consumer demand for organic produce.

Under the deal, Arla would pay royalties to Yeo Valley annually and take over the sole rights to sell Yeo Valley products in the above categories.

However, the Yeo Valley yoghurt, ice cream, cream and desserts business would continue to be run independently through Yeo Valley Group, which remains under the ownership of the Mead family.

In an interview with The Grocer on 22 February, Arla's UK MD Tomas Pietrangeli said the dairy co-op was planning a major NPD push for the Yeo Valley brand as soon as the deal had secured CMA approval.

However, there were no plans to change supply arrangements for Yeo Valley products under the deal, he added. "Supply will remain as per the current set-up."

Some dairy commentators have suggested the deal could place too much control of the particularly volatile butters and fats sector into the hands of Arla and its main rival Müller.

But Pietrangeli played down competition concerns in butters, adding that the rationale for the acquisition was clear for Arla.

"When you look at the overall fats market, volumes from this potential transaction are actually relatively small, so we don't think it will impact market pricing," he said, while pointing out the deal would lead to "practically no cannibalisation between the two brands", as they appealed to two very distinct consumer groups.

The deadline for the CMA to announce its decision whether to refer the merger for a more in-depth Phase Two investigation is 13 July.

The last major dairy merger to come under the scrutiny of the CMA was the deal by Müller UK & Ireland to acquire Dairy Crest's liquid milk division in 2014.
It was ultimately approved by the CMA in the autumn of 2015 (with the Dairy Crest business joining Müller at the end of the year) after Müller agreed to supply and process up to 100 million litres of fresh milk a year to rival Medina at its Severnside facility in Gloucestershire to allay competition fears.