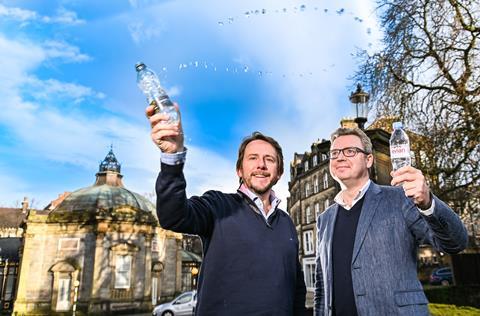 French dairy giant Danone (BN) has agreed to acquire a majority stake in UK bottled water brand Harrogate for an undisclosed amount.
The transaction will see Harrogate join water brands Evian and Volvic under Danone's portfolio, developing the French company's position in the UK while contributing to further growth for the British brand.
The deal will provide "new opportunities" for both businesses to grow across complementary channels, the companies said, combining their respective "know-hows".
It also reflects the "shared ambition of the two companies to encourage healthier and more sustainable drinking choices", the businesses added.
Harrogate is one of the leading UK bottled water brands, having achieved sales of £21.6m in the financial year to March 2019 – a 9% increase year on year.
The UK brand is also focused on sustainable business practice, having successfully switched to 100% recyclable packaging including bottles made from majority recycled PET and glass.
"Danone's heritage and strength lies in doing business in a responsible way: one that recognises the importance of sustainable growth alongside a commitment to protect our planet, promote health and value the people within our company and those we partner with," said Danone Waters UK & Ireland MD James Pearson.
"We've been impressed with Harrogate Water's commitment to these same values, including a shared ambition to become B Corp certified and to protecting our unique water sources, and we are excited to support the next step of their journey, inspiring more people towards healthier hydration."
Harrogate's current shareholders, the Cain family, will continue to hold a minority stake and contribute to the growth of the business.
CEO James Cain said he was "delighted to have found the right partner" to support Harrogate's journey.
"Danone and Harrogate Water have a shared ethos and approach to community and sustainability," he added.
"We are incredibly proud to become part of the Danone family, and are excited about the benefits this will bring to Harrogate as we continue to produce one of the world's finest natural source waters from the original British spa town, for everyone to enjoy."
Cain will join the management team of Danone Waters UK as he continues to lead the Harrogate business.
Separately, Danone has today (26 February) cut its growth targets for 2020 amid "volatile and uncertain" global economic conditions and the potential impact of the coronavirus outbreak.
It especially highlighted weaker water sales in China, liked to coronavirus, which it estimates will cost it €100m sales in the first quarter and bring its Q1 sales back to broadly flat.