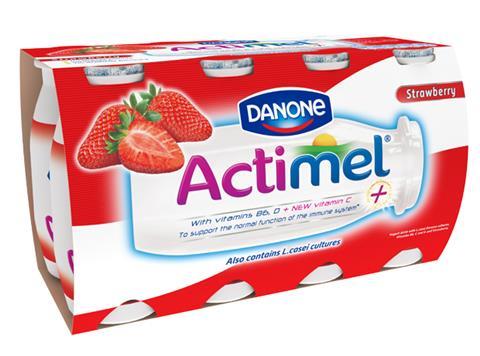 Danone (BN) has agreed to sell one of its US dairy subsidiaries to speed up the completion of the $12.5bn acquisition of US plant-based food group WhiteWave.
The French dairy giant said today that, as a concession to get clearance for the transformative merger, it had reached an agreement with the US Department of Justice to sell organic yoghurt maker Stonyfield in the months after closure of the WhiteWave deal.
Danone already has European regulatory approval for the transaction.
"This move is expected to permit closing to occur shortly and will allow the company to proceed at the soonest with the integration and reap the full benefits of the announced synergies," the Danone statement added.
"While Stonyfield has been a valued part of Danone's portfolio and remains a highly attractive asset, its divestiture does not impact the strategic rationale or financial benefits of the WhiteWave acquisition."
Stonyfield - second largest brand for organic dairy-based yoghurt in North America with 13.3% of the market [Euromonitor] - generated revenues of about $370m in 2016. Danone purchased a 40% in Stonyfield in 2001 before taking a majority holding two years later.
Danone agreed to buy WhiteWave, which makes branded plant-based foods and drinks, for US$12.5bn (£9.7bn) in July 2016.
The deal will help Danone tap into the growing trend for healthier eating and reduces the group's exposure to declining markets in the likes of Russia and Brazil, while doubling the size of its North America business to more than $6bn in turnover.
"The combination will allow us to develop a world-leading dairy and plant-based food and beverage portfolio, with a full spectrum of better-for-you offerings, including protein-rich, organic, non-GMO and nutrient-dense choices," Danone CEO Emmanuel Faber said.
"With this wider variety of great tasting products, we will reach more consumers and be able to play in more meal occasions and consumption moments like snacking and on-the-go. This acquisition will drive both our business performance and our 'Alimentation Revolution' as we offer healthier and more sustainable eating and drinking options for consumers."
Danone last month unveiled plans for €1bn of cost cuts by 2020 to mitigate the steep rise in milk prices and 'volatile' economic conditions.
The WhiteWave deal is also expected to lead to EBIT synergies of $300m by 2020 and improve Danone's like-for-like sales growth by an extra 0.5% to 1%.
WhiteWave specialises in premium organic dairy, non-GMO, plant-based alternatives to milk and yogurt, fresh foods and coffee creamers. It recorded sales of $4bn in 2015 – generating double digit like-for-like growth since it listed in New York 2012.
Shares in Danone have fallen 0.4% so far today to €63.31.