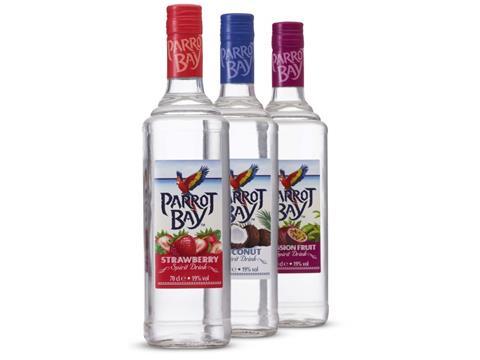 Top story
Booze giant Diageo (DGE) has announced plans to sell a portfolio of 19 spirit brands to US group Sazerac in a deal worth US$550m (£428m).
The Smirnoff owner has said it will launch an additional share buyback programme to shareholders on the back of the agreement.
The brands involved in the sale include Seagram's VO, Seagram's 83, Seagram's Five Star, Myers's, Parrot Bay, Romana Sambuca, Popov, Yukon Jack, Goldschlager, Stirrings, The Club, Scoresby, Black Haus, Peligroso, Relska, Grind, Piehole, Booth's and John Begg.
Diageo also agreed to enter into long-term supply contracts with Sazerac on completion for five of the brands each for a period of ten years, the company said.
Supply of all other brands would transition to Sazerac within a one year period from completion.
After tax and transaction costs, the net proceeds from the deal will be £340m, to be offered in the share buyback scheme, Diageo said.
"Diageo has a clear strategy to deliver consistent efficient growth and value creation for our shareholders," commented Ivan Menezes, chief executive of Diageo.
"This includes a disciplined approach to allocating resources and capital to ensure we maximise returns over time. Today's announcement is another example of this strategy in action.
"The disposal of these brands enables us to have even greater focus on the faster growing premium and above brands in the US spirits portfolio."
The transaction, which is subject to regulatory approval, is expected to be completed in early 2019, the company said.
Earlier this month, the spirit giant's UK boss Charles Ireland announced his departure after 20 years with the business. He is to be replaced by Dayalan Nayager, currently Diageo's MD for global travel retail, who will take up the role of managing director for GB, France & Ireland on 1 January 2019.
Morning update
Agriculture giant CARR's Group (CARR) has "surpassed expectations" as full-year sales surged 16.5% to £403.2m on the back of significant investment.
Adjusted pre-tax profits also jumped 45.2% to £16.6m for the year ended 1 September 2018, buoyed by a "recovery in Carr's underlying markets".
The Carlise-based company highlighted a "strong performance" in UK agriculture, with growth across all areas, reflecting farm incomes.
US feed block sales were also significantly ahead of expectations, up 17.7%, driven by a recovery in US cattle prices.
Internationally Carr's feed block business "progressed well", helped by new agreements with leading distributors in New Zealand.
The results follow a positive update in July 2018 which helped trigger a share increase to year-high of 165p and broker updates.
"We are very pleased to announce a significant improvement in the Group's financial performance for the year, exceeding the Board's expectations, across both the Agriculture and Engineering divisions," commented Chris Holmes, chairman of Carr's Group.
"This performance was largely as a result of investments we made across the business in recent years, in addition to a recovery in our underlying markets.
"UK Agriculture continued to perform well reflecting the sustained recovery in farm incomes. Our USA feed blocks business continued to benefit from the recovery in USA cattle prices and we made further progress on growing our international feed blocks business.
"Trading for the new financial year has started in line with the Board's expectations. We made further progress during the year on our strategic objectives and continue to believe the breadth of our product offering, investments in acquisitions and research, and our international footprint leaves us well positioned for further growth across both our divisions in the medium term."
The FTSE 100 has had a bright start to the week, rising 0.4% to 7,135.8pts as is aided by the Brexit-weakened pound.
The early risers include stevia producer Purecircle (PURE) up 4.7% to 335p, Reckitt Benckiser (RB.), up 1.1% to 6,323p, and GlaxoSmithKline (GSK), up 1% to 1,586.4p.
Tobacco companies British American Tobacco (BATS) and Imperial (IMB), have plunged 9.5% to 3,001p and 4.5% to 2,626p respectively following reports in America over the weekend that the FDA is to propose a ban on menthol cigarettes.
Other early fallers include Restaurant Group, (RTN), down 5.9% to 236.8p, Glanbia (GLB), down 2.5% to 15.6p and Majestic Wine (WINE), down 2.2% to 400p.
This Week in the city
It looks to be a quieter week in store after a the flurry of supermarket announcements last week, but there's still plenty in the calendar.
The monthly grocery market share figures from Kantar Worldpanel and Nielsen are out tomorrow as we enter the crucial pre-Christmas trading period.
Premier Foods (PFD) will be providing a trading update for the quarter on Tuesday, as it looks to accelerate plans to reduce debts following intense shareholder pressure against CEO Gavin Darby in the summer.
In the US on Tuesday, meat giant Tyson Foods and meal subscription business Hellofresh will be announcing their third quarter figures.
There are also a number of consumer giants expected to give updates to industry analysts on Tuesday as the Morgan Stanley Consumer Conference takes place.
Thursday will see global giant Walmart (WMT) announce its third quarter figures as it looks to continue from a second quarter which saw its strongest US sales growth in more than a decade. It will also bring with it third quarter figures from UK supermarket Asda.
JD Wetherspoon (JDW) will be holding its AGM on Thursday, a week after its shares dips on an unusually cautious trading announcement as it announced a wage rise, without corresponding price increases.
Persil and Schwarzkopf manufacturer Henkel (HEN) will be revealing its third quarter results on Thursday.
On Friday, AIM-listed retail technology firm Eagle Eye Solutions will hold its AGM.
In economic news, Wednesday brings the official UK inflation figures, while Thursday will see the Office of National Statistics issue its monthly retail figures.