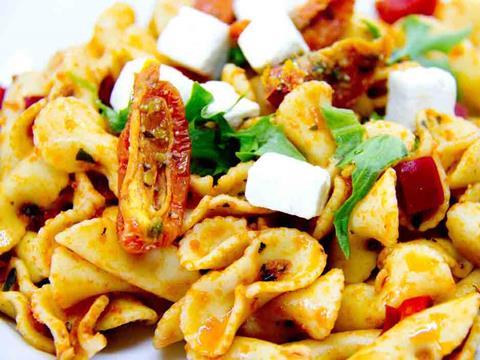 Top story
Greencore (GNC) has announced it has agreed to acquire Freshtime, a UK-based supplier of food-to-go-salads, chilled snacks and prepared produce.
The business operates from a single facility in Boston, Lincolnshire, with its products mainly distributed in the grocery and convenience channels.
Greencore has bought the business for an enterprise value of £56m, funded from existing debt facilities.
Freshtime generated revenues of £66m and pre-tax profit of £5.6m in the year to the end of December. Gross assets at 31 December 2018 were £22m.
Greencore said the deal will extend its presence in food to go salads and chilled snacking and "Freshtime's strong customer base is highly complementary to the group's existing portfolio".
It added that Freshtime's production facility is well invested, with an established local supply chain and capacity for future growth.
Greencore already distributes a large proportion of Freshtime's products through its 'direct to store' network, reflected as revenue from the distribution of third party products.
Patrick Coveney, Greencore chief executive, said: "Freshtime is an excellent strategic fit for Greencore. It is a business and a customer set that we know very well and it provides us with an exciting opportunity to enhance our product offering, add further capacity to our manufacturing network, and help drive growth and value for shareholders."
Meanwhile, Greencore has appointed of HSBC Bank and Shore Capital as joint corporate brokers along with Goodbody Stockbrokers, which Greencore retains as joint corporate broker.
Morning update
Like-for-like food sales fell 0.3% in the three months to August and increased 0.5% on a total basis – below the 12-month total average growth of 1.7%.
The latest British Retail Consortium-KPMG Retail Sales Monitor shows UK retail sales decreased 0.5% on a like-for-like basis from August 2018, when they increased 0.2% from the previous year.
This was higher than the three-month average of minus 0.7% but below the 12-month average of minus 0.2%.
UK retail sales on a total basis were flat in August, against an increase of 1.3% in August 2018. This was higher than the three-month average of minus 0.4% but below the 12-month average of 0.4%. This is the lowest 12-month average on record.
Over the three months to August, in-store sales of non-food items declined 3% on a total and like-for-like basis – worse than the 12-month total average decline of 2.6%.
Non-food retail sales in the UK overall decreased 1.2% on a like-for-like and total basis – below the 12-month total average decrease of 0.7%. Non-food was in decline year-on-year last month.
Online sales of non-food products grew 2.2% in August, against a growth of 7.5% in August 2018. The three-month and 12-month average growths were 3.4% and 4.3% respectively.
Susan Barratt, chief executive of the IGD, said: "Food and grocery sales moved back into positive territory in August with year-on-year growth, thanks considerably to the approaching Bank Holiday heatwave.
"As August progressed, the October Brexit deadline received increasing attention but only 3% of shoppers say they've begun to build stocks for this purpose; not enough to show through in the total sector sales."
Elsewhere, Supermarket Income REIT (SUPR) has reported full-year pre-tax profit up from £847,000 to £10.6m
EPRA NAV per share climbed 1% to 97p. Total net assets increased 30.4% to £230.5m. The portfolio net initial yield held steady at 4.9%.
The REIT enjoyed a 3.2% average rent review increase for the year in line with UK Retail Price Index inflation (3.6% in 2018).
It bought an eighth supermarket after the accounting period – a Sainsbury's superstore in Preston, Lancashire, with an unexpired lease term of 23 years, for £54.4m, net of acquisition costs), reflecting a net initial yield of 5.1%
Nick Hewson, chairman, said it was another year of strong performance in which the REIT had generated an 8% total return for its shareholders.
"We have continued to implement our highly specific investment strategy and deliver on our performance targets," he said.
"In an extremely challenging market for retail commercial real estate, I am pleased that our focused strategy of investing solely in grocery assets is being recognised by the market.
The REIT's total shareholder return of 8% compared favourably with a UK REIT sector return of minus 6%.
Over the two years since the initial public offering, its total shareholder return was 16.7% against minus 1% for the sector, Hewson said.
Real Good Food (RGD) has agreed that chief executive Hugh Cawley will step down from the board and his duties with immediate effect. He will leave the company at the end of the month.
The statement released to the stock exchange this morning said the group now comprised two autonomous business units with their own separate strategies lead by the managing director of each respective business unit following several disposals over the past year.
The role of group chief executive had therefore changed and the board considered the future role would now be part-time, complementing the strategic and operational focus of the managing directors of Brighter Foods and Renshaw, with a particular focus on the group's head office functions and corporate governance.
The search for an executive director to replace Cawley was "well advanced" and was expected to be made within a few weeks. Mike Holt would temporarily become executive chairman of the group, pending the appointment, the company said.
Mike Holt, chairman, said: "On behalf of the board, we would like to express our thanks to Hugh for his considerable contribution in stabilising the group, helping to improve corporate governance within the group and getting it focused on its two core businesses.
"The group is now fully engaged in growing Brighter Foods and regaining market share for Cake Decoration. We wish Hugh well for all his future endeavours."
Tesco (TSCO) has confirmed that Tesco Personal Finance (Tesco Bank) has sold its mortgage portfolio to Lloyds Banking Group for £3.8bn.
The sale is in keeping with Tesco Bank's strategy of concentrating on a reduced number of products and services that serve the broad range of Tesco customers.
It said it would use the proceeds for "reinvestment into its customer offer, ongoing transformation of the business and rebalancing of retail and wholesale funding sources".
Gerry Mallon, Tesco Bank chief executive, said the company announced in May its decision to stop new mortgage lending while it explored its options to sell the mortgage book.
"Our focus is on how we best serve Tesco customers and align our resources effectively to their needs while ensuring that our offer remains sustainable in the long term.
"As a result, we made the decision to move away from our mortgage offering. Our priority throughout has been to complete a commercially acceptable transaction with a purchaser who will continue to serve our customers well.
"After a thorough process, we are pleased to confirm that we have agreed the sale of our mortgage book to Lloyds Banking Group, operating under the Halifax brand. We are confident that they will continue to provide our customers with an excellent customer experience.
DS Smith (SMDS) has issued a trading statement for the period since 1 May in which it said the business continued to progress well despite, as expected continued macro-economic uncertainty.
Europac integration and synergy delivery were progressing "very well", with "excellent" customer and employee engagement, it said.
The company completed the remedy disposals in June and its "paper footprint optimisation review" continued to progress.
Construction of its greenfield packaging plant in Indiana, which would enhance its capability in the US and reduce its "long-paper position" was fully on track, with production expected to start this calendar year.
The company continued to expect completion of the disposal of its plastics division before the end of this calendar year.
Miles Roberts, group chief executive, said: "The underlying drivers of demand for sustainable corrugated packaging remain strong and our leading offerings for highly resilient FMCG and e-commerce customers give us confidence of volume and market share growth.
"While volatility in the macro-economic environment and input costs remains, our focus on pricing discipline, margin progression, enhanced cost and efficiency improvements, and cash generation, support our expectation of further good progress in the year."
On the markets this morning, the FTSE 100 rose 0.1% in early trading to 7,201.8pts.
Early risers include Greencore Group (GNC), up 1.4% to 212.9p, after it completed the purchase of Freshtime UK. Finsbury Food Group (FIF), climbed 1.4% to 64.9p, WH Smith, (SMWH), rose 0.8% to 1.978p, AG Barr (BAG), edged 0.6% higher at 592.8p and SSP Group (SSPG), moved 0.4% higher at 724p. Marks and Spencer Group (MKS) looks unlikely to escape demotion, edging up just 0.2% to 190p.
Fallers so far today include Nichols (NICL), off 2.6% at 1,685.6p, Stock Spirits Group (STCK), down 0.9% to 236,9p, McColl's Retail Group (MCLS), down 0.5% to 47p and Just Eat (JE), 0.5% to 772.2p.
Yesterday in the City
The FTSE 100 closed up 1% at 7,281.9pt.
The IHS Markit/Chartered Institute of Procurement and Supply (CIPS) UK manufacturing Purchasing Managers' Index (PMI)I came in at a seven-year low last month as uncertainty stifled domestic and export markets.
At 47.4 in August, down from 48.0 in July, the headline seasonally adjusted IHS Markit/CIPS PMI fell to its lowest level since July 2012.
The downward movement in the headline index was centred on an accelerated contraction in new work, which decreased to the greatest extent in 85 months.
Steep reductions in new orders were registered across the consumer, intermediate and investment goods industries, contributing to the ongoing downturns in output in all three product categories.
Where a decrease in new orders was reported, this was linked to weaker domestic and global economic conditions, low market confidence, Brexit concerns, business uncertainty and a slowdown in client spending.
Duncan Brock, Group Director at the Chartered Institute of Procurement & Supply, said: "As Brexit planning intensifies, some firms were resorting to more inventory building whilst others were unravelling their stocks. With some supplies impacted by port delays and poor supplier performance, a creeping dread is descending on the sector that there will be more of these obstacles to come."
Reckitt Benckiser Group (RB) announced the retirement of Rakesh Kapoor from the board with immediate effect.
His departure follows the previously-announced appointment of Laxman Narasimhan as chief executive which took effect on 1 September.
Kapoor, one of the UK's highest-paid chief executives, will retire from the company at the end of the year, He will, meanwhile, be available to support Narasimhan with the transition.
FTSE fallers included McBride (MCB), off 2.4% at 54p, Naked Wines (WINE), down 1.5% at 255.5p, Marks and Spencer Group (MKS), which faces relegation from the blue-chip index, down 1.4% to 189.6p, Just Eat (JE), dropped 1.3% to 775.8p and Devro (DVO) closed down 1.1% at 192.6p.
Stocks on the up included Premier Foods (PFD), up 3.2% to 33.8p, Ocado Group (OCDO), up 2.6% to 1,328.5p, Diageo (DGE), up 2.5% at 3,591p, Tesco, up 2.3% to 224.2p and SSPG Group, up 2% to 721p.