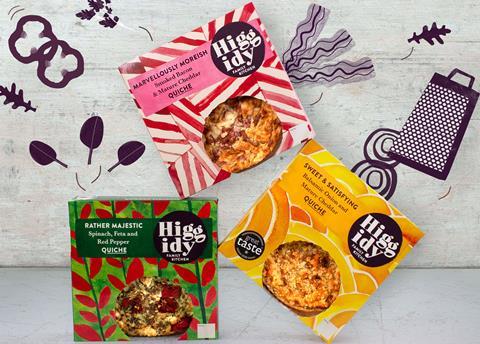 Premium pie-maker Higgidy has sold a minority stake to Ginsters owner Samworth Brothers to help accelerate its push into vegan and veggie pastries.
The deal, for an undisclosed sum, will also give Samworth an option of increasing its stake in Higgidy over the coming years.
West-Sussex-based Higgidy, founded by Camilla Stephens in 2003, has grown from a kitchen startup into a £35m brand.
Over 70% of its sales are now vegetarian lines, with the brand having expanded its focus from pies to high-end quiches, frittatas and sausage rolls.
CEO Mark Campbell commented: "We love making feel good family food and our long-term ambition for Higgidy is to build an enduring British food business that we can all be proud of in the decades to come.
"We've always known that to achieve this in our sector we'd need to partner with a larger business at the right moment. With significant opportunities opening up for us in the market this feels like the exactly right moment and Samworth Brothers' fit with our values & culture as well as our strategic alignment make them the exactly right partner."
Higgidy will continue to be run as a separate business with its own manufacturing facilities, employing around 300 people.
Flor Healy, Samworth Brothers CEO, will join the Higgidy Board as a non-executive director.
Healy commented: "The Higgidy team has been extremely successful over the past 16 years in growing a much-loved and contemporary premium consumer brand with strong retailer partnerships.
"Our own business already has a great track record in developing brands with distinctive identities and brand stories. We are also strong in savoury pastry and food-to-go and have been successful in innovating and developing these categories further in recent years. Our involvement in Higgidy will help build on these existing business strengths and open up significant new opportunities.
"We are also impressed by Higgidy's success in developing a significant percentage of sales in vegetarian and vegan product lines and look forward to working with the Higgidy team on further innovation in such areas."
Samworth Brothers has made a number of acquisitions over recent years, including purchasing 2 Sister's Manton Wood sandwich business last year and a 2017 deal to acquire West Cornwall Pasty Co.
Other Samworth brands include Soreen malt loaf, sports nutrition brand, SCI-MX and pie specialists Walker & Son and Dickinson & Morris.
In its most recent financial year Higgidy has fell to a pre-tax loss as investment into its brand and new products hit its bottom line.
Total sales in the year to 30 September 2018 were up 6% to £25.3m, with branded sales (accounting for 82% of total revenues) up 12.5% in the period.
However, the escalating cost of ingredients as well as investment into its brand and West Sussex manufacturing base meant it recorded a pre-tax loss of £180k from a profit of £817k in the previous year.
Higgidy returned to top-line growth in the year despite losing all nine of its Tesco listings in mid-May 2018 amid a rationalisation of the retailer's savoury pies.