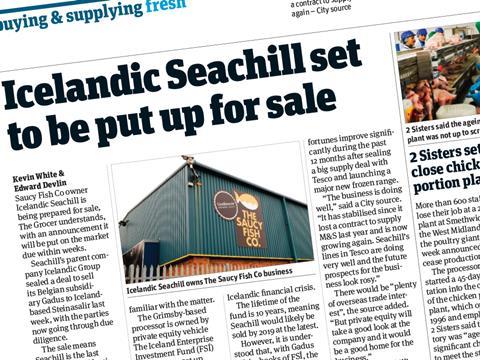 The board of seafood giant Icelandic Group has announced plans to sell its UK business and owner of the Saucy Fish Co – Icelandic Seachill.
As first reported by The Grocer last week, Icelandic Group announced its intentions to sell the business today (21 April). Banking group Íslandsbanki and UK based corporate finance advisors Oghma Partners have been mandated to manage the sale of all shares in Seachill.
Icelandic Group said the business, founded in 1998, had grown to be one of the largest chilled fish processors in the UK, with "well-invested facilities and an established supply chain".
It sealed a deal to sell its Belgian subsidiary Gadus to Iceland-based Steinasalir earlier this month, leaving Seachill as the only remaining food business in the group.
It is understood Icelandic Group management, as The Grocer revealed last week, felt the time was right to look for a buyer for Seachill after it offloaded Gadus, particularly as Seachill's fortunes had improved significantly during the past 12 months after it sealed a big supply deal with Tesco.
Icelandic Group is owned by private equity vehicle The Iceland Enterprise Investment Fund (FSÍ) - which was set up by the VIS insurance company, 16 pension funds and Icelandic bank Landsbankinn in 2009, in the wake of the Icelandic financial crisis.
The lifetime of the fund is 10 years, meaning Seachill would likely be sold by 2019 at the latest.
Seachill reported revenues totalling £266.3m in 2016, with EBITDA of £10.4m. The Grimsby-based supplier employs about 750 people.
"The business is in great shape, having successfully transitioned both customer and supply base, with a consistent multi year-on-year EBITDA growth," said Icelandic Seachill CEO Simon Smith. "This process is no surprise and is a very positive next step for Seachill, its partner customers and employees."
There would be significant interest in the business from overseas traders and private equity players, according to City sources.
News of the sale raised concerns over the future of the business, said trade union Unite, which has about 180 members at the processor.
The union would "be seeking an urgent meeting with the management in regards to the future job security of our members and to understand the rationale behind the sale of the company", said Unite regional officer Mike Wilkinson, who questioned "why has the business been put up for sale", despite its apparent success in recent months.
However, Simon Smith insisted it was "important to note that, unlike many sales processes, this is definitely not a distressed company sale".
He added: "In fact, quite the opposite – we enter this process having completed a significant improvement in the business and we now have not just a sound organisational and financial platform, but also an extremely positive reputation across our suppliers, our customers, our industry and financial organisations."